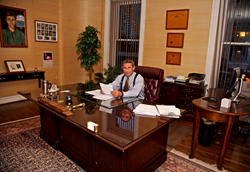 (PRWEB) May 22, 2014
Pozzuolo Rodden P.C., Philadelphia Business Law Lawyers, announce the release of the article: "The Rights of a Minority Shareholder Against Oppression".
The Rights of a Minority Shareholder Against Oppression
Minority shareholders are by definition outnumbered by majority shareholders and, as such, they are targets for shareholder oppression by the majority. However, there are various equitable remedies available to minority shareholders who are subjected to such oppression.
I. What is Shareholder Oppression?
Typically, shareholder oppression occurs in closely held corporations, or other small businesses, because there is a lack of a public market to sell minority shares. Oppression occurs when the majority shareholders exert their majority power or authority to take actions that unfairly prejudice minority shareholders and jeopardize their interest in the business.
One of the most common types of shareholder oppression is a "squeeze-out" of a minority shareholder. This occurs when the majority shareholders force an involuntary compulsory acquisition of the minority shareholder's interest in the business by forcing the minority shareholder to accept a cash payout for his or her shares. This may arise when majority shareholders take actions to freeze out the minority shareholder in an attempt to force them to sell his or her shares. Often times this will happen by the majority shareholders refusing to issue dividends, or even physically barring the minority shareholder from entering the business' premise or reviewing the corporate books and records. By blocking the minority shareholder's access, the majority is able to limit the minority's knowledge and information relating to the operation of the business, which could cause significant harm to his interest in the business.
Shareholder oppression can take many forms, but always results in harm or prejudice to the minority shareholders by the majority shareholders.
II. Remedies to Shareholder Oppression
Each state has separate corporate laws which govern that state's responses and remedies to shareholder oppression. Accordingly, a minority shareholder must look to the law of the state where the business was formed or incorporated to determine what relief is available to him or her in the case of shareholder oppression.
If you would like to read more, please read the full article and other business law topics at http://www.pozzuolo.com. This article is part of the May, 2014 Newsletter on our website.
Contact our Philadelphia Business Law Firm with your questions, comments or concerns.
Pozzuolo Rodden, P.C. provides specialized cost-effective legal services to privately held business owners and high-net-worth clients in Pennsylvania and New Jersey in excess of 35 years.
Practice Areas: Business/Corporate Litigation | Business/Corporate Law | Real Estate | Employment Law | Estate Planning | Tax & Pension Law
Pozzuolo Rodden, P.C.
Counselors at Law
2033 Walnut Street
Philadelphia, PA 19103
215-977-8200
http://www.pozzuolo.com