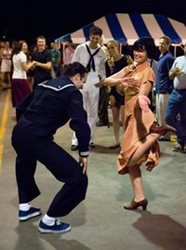 St Paul, MN (PRWEB) May 20, 2014
The Commemorative Air Force Minnesota Wing, an organization committed to preserving American aviation heritage, today announced its Spring Swing Big Band Hangar Dance. Admission to the Swing Dance is $12.50 online or $15.00 at the door. Admission goes towards keeping the CAF open to the public.
Doors open at 6pm with a free dance lesson at 7 p.m. from TC Swing. Music of the area provided by The Roseville Big Band. Enjoy food, music, a costume contest, and being transported back to the 1940's for an evening with the CAF Minnesota Wing. Food provided by Divine Swine Catering and beer provided by American Sky Beer of Hudson, WI.
Advanced tickets can be purchased at http://www.eventbrite.com/e/spring-swing-big-band-hangar-dance-tickets-10722823253.
The Commemorative Air Force Minnesota Wing was formed in 1971. The Minnesota Wing was the first charter unit of the national headquarters wing of the Commemorative Air Force and originally operated as a maintenance support arm to help the CAF's mission. Today, the Commemorative Air Force Minnesota Wing is home to six aircraft, a large motor pool fleet, and a unique collection of World War II artifacts currently on display. For more information, visit http://www.cafmn.org.
In 1957, a small group of ex-service pilots pooled their money to purchase a P-51 Mustang, beginning what is now called the Commemorative Air Force (CAF). With the addition of a pair of F8F Bearcats, the CAF became the founders of the Warbird Movement, an effort to preserve and honor our military history with the rallying cry to "Keep 'Em Flying!" Now, more than 55 years later, the CAF is the premier Warbird organization, operating 160 vintage aircraft in Honor of American Military Aviation. A non-profit educational association, the CAF has more than 10,000 members and its fleet of historic aircraft is distributed to 73 units located in 28 states for care and operation. For more information, visit http://www.commemorativeairforce.org or call (432) 563-1000.