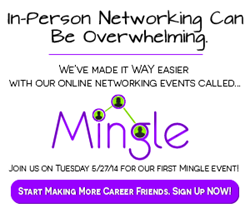 Hampton, NH (PRWEB) May 21, 2014
CAREEREALISM, an online career advice magazine, is starting a new virtual networking project called Mingle. This will take place on Tuesday, May 27th – 7:00-9:00PM EDT. Mingle will allow individuals to build both professional and personal connections, and help them land their dream job.This is a fun and unique opportunity for job seekers to receive career advice, share experiences and learn about possible career opportunities all online.
Fact: 40% of job seekers said they found their "favorite" or "best" job through their network, according to a recent JobVite study. The fact is, networking is something everyone needs to deal with on a daily basis.
But why does it have to be intimidating or awkward? Well, it doesn't - not with Mingle!
Take the hassle out of networking. Register to attend Mingle and get to know a variety of professionals - the easy way. Here are a few perks to attending:

Don't have to dress up to attend.
Don't have to pay for expensive food or drinks.
It's not awkward, and individuals can leave at any time.
People have the option to pre-write their introduction before the event.
It's free and it's fun!
Click here to sign up now.
No matter where people are in the world, they can sign in anytime between the hours of 7:00-9:00 PM EDT from their home, office, or local coffee shop.
Check out the resource page here. This demonstrates how to write a Mingle introduction, how to follow up after a Mingle event and sample icebreakers on how to start conversations.
About CAREEREALISM
CAREEREALISM is a privately held company with a strong entrepreneurial team and a flawless track record in superior job search assistance. The company intends to be the leading online destination for career advice, research, tools and unparalleled workforce intelligence. With extensive experience in career counseling at large companies, founder J.T. O'Donnell has created an organic platform built to share experiences, provide feedback, and suggest career counseling points that will truly drive the American workforce. For more information, please visit CAREEREALISM.com.