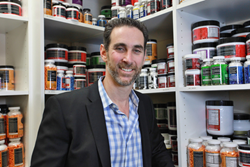 There is no way I would have been considered for this prestigious honor without the efforts put forth by our employees on a daily basis. They are the ones who are truly outstanding and that deserve all of the credit for making Nutricap Labs what it is
Farmingdale, NY (PRWEB) May 20, 2014
Jonathan Greenhut, Chief Executive Officer of Nutricap Labs, was honored as one of Long Island Business News' Outstanding CEO's for 2014 at an awards gala held at the Crest Hollow Country Club in Woodbury on Thursday, May 15th.
Long Island Business News created the Outstanding CEO Awards program to recognize the business and not-for-profit executives who have consistently demonstrated remarkable leadership skills, integrity, values, vision and a commitment to excellence, financial performance, community and diversity.
Mr. Greenhut co-founded Nutricap Labs in 2005 after he and his business partner recognized a need in the dietary supplement industry for a company that provided business owners, like them, with nutraceutical formulation, manufacturing, graphic design and order fulfillment services under one roof. Under Greenhut's direction, the firm has posted revenues in excess of $30 million for three consecutive years, substantially upgraded its quality control measures to exceed industry specifications, received numerous honors from Inc. Magazine, the American Business Awards and Best in Biz for the unparalleled customer service and attention to detail they provide their clients with, and has contributed both time and money to charitable causes such as Vitamin Angels, Island Harvest and Habitat for Humanity.
Shortly after accepting the award in front of his peers and members of his executive management team, Mr. Greenhut said, "There is no way I would have been considered for this prestigious honor without the efforts put forth by our employees on a daily basis. They are the ones who are truly outstanding and that deserve all of the credit for making Nutricap Labs what it is today and what it will be in the future. Our financial goals over the next three years are aggressive, yet attainable, given the level of talent we have on our team."
For more information about Nutricap Labs, visit http://www.nutricaplabs.com or call (800) 494-6154 to speak with one of our Production Specialists.
###
About Nutricap Labs:
Since its foundation in 2005, Nutricap Labs' mission has been to provide dietary supplement businesses with turnkey nutraceutical formulation, manufacturing, graphic design and fulfillment services, delivered with unparalleled customer service and attention to detail. We are a five-time Inc. 500|5000 honoree and have received multiple accolades over the years from leading business and entrepreneurial advocates such as The American Business (Stevie) Awards, Best in Biz and The Golden Bridge Awards. For more information about our services, please visit our website or call (800) 494-6154 to speak with one of our knowledgeable Production Specialists.
About Jonathan Greenhut:
Jonathan Greenhut has over 20 years of experience working within the nutraceuticals industry. As the founder and former Chief Executive Officer of New Vitality, he sold hundreds of millions of dollars in direct-to-consumer vitamin and supplement products. A serial entrepreneur dating back to his days as a student at SUNY Albany, Mr. Greenhut currently serves as the Chief Executive Officer for Nutricap Labs and Health Solutions Marketing, both headquartered in Long Island, NY, and American Empire Manufacturing, an Illinois-based provider of unit dose contract packaging services for companies operating within the healthcare, veterinary, dental and cosmetics industries. His companies have been recognized over the years by Inc. Magazine, the American Business Awards and Best in Biz.
Jonathan resides in Dix Hills, NY with his wife and their two daughters.