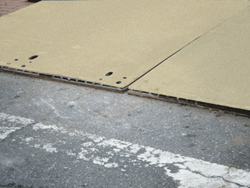 Boston, MA (PRWEB) June 12, 2014
Mabey Inc. announces new inventory of BEIGE skid-resistant road plates in their Sutton MA depot to serve the city of Boston and areas affected by the city's new requirements. The beige skid-resistant plates comply with the city requirements designed to help maximize visibility and increase safety. Traditionally, road plates are black or grey to visually blend into the road surface. However, the city of Boston determined that the dark plates presented a safety risk for pedestrians and bicyclists, due to the low visibility, creating a tripping point.
In November 2013, Boston's Public Works and Transportation Department instituted a requirement for contractors to use skid-resistant road plates on construction sites with "high concern locations" such as crosswalks, bike lanes, bus lanes, and side walks. After the city considered alternative colors to the usual black and grey plates, they concluded that beige was the most visible color to pedestrians, bicyclists, and motorists and added the beige color stipulation to their requirements.
###
For over 25 years, Mabey Inc. has been a leader in engineered solutions for the construction rental industry, including structural and excavation shoring, bridging, and temporary roadways. Headquartered near Baltimore, MD, Mabey Inc. has 20 depot locations across the country. In addition to construction equipment, Mabey Inc. provides professional engineering services, on-site technical advisors and hands-on safety training.