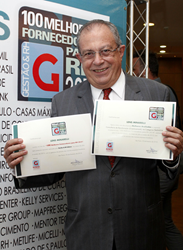 Sao Paulo, Brazil (PRWEB) May 29, 2014
The Sao Paulo office of Career Partners International, the world's largest global provider of outplacement services and talent management solutions, wins exceptional award from the Brazilian Human Resources market.
In Sao Paulo, Brazil, Lens & Minarelli, a Career Partners International firm, was named one of the "25 Most Admired HR Providers in 2014" and the "Best Ranked Company" in the Outplacement category.
Founded in 2007, the survey "100 Best HR Suppliers" is promoted by Management & HR Magazine. It aims to enhance the work of suppliers and evaluate HR practices targeted at customers, using methodologies based on thorough quantitative and qualitative analysis.
After the first stage, where the highest-rated companies were included in a list of top 100 providers, a second assessment was conducted through a questionnaire to customers. This then identified the 25 Most Admired HR Providers among the prominent companies in each category.
"Congratulations to our team in Brazil," commented David P. Hemmer, President and CEO of Career Partners International. "Jose Minarelli and the team are remarkable. They are a true reflection of our entire organization's commitment to deliver our vision to enhance our clients' organizational performances and people's lives every day."
Career Partners International is accustomed to earning recognition. A recent survey of its outplacement services participants revealed that 98.8% have experiences that exceeded or met their expectations. Additionally, Career Partners International received an exceptionally outstanding Net Promoter Score of 70 from its participants. The firm recently adopted the Net Promoter approach to gauge the loyalty of its participants, asking how likely they are to recommend the services of Career Partners International to others.
"Career transition can be such a time of uncertainty," added Hemmer. "What we do and how we do it makes a difference for every individual who utilizes our services. It's imperative that we make a positive impact for our participants and these survey results show that we are doing just that."
About Career Partners International
Career Partners International enhances organizational performance and people's lives every day! As a global leader in talent management consulting since 1987, organizations of all sizes and industries trust Career Partners International for the very best outcomes to their most challenging and important talent strategies and initiatives. With the most experienced and respected consultants in more than 45 countries, Career Partners International provides clients with one-on-one access to local experts in talent development, career management, executive coaching, outplacement and career transition services to successfully assess, engage, develop and transition talent to drive organizational performance. Additional information may be found at http://www.cpiworld.com.
About Lens & Minarelli
A pioneer in Brazil, Lens & Minarelli has become the preferred partner of Human Resource Managers of the major national and international companies operating in our country. Lens & Minarelli's team of experienced consultants is contracted by these organizations because of their expertise in developing and delivering comprehensive programs tailored to individual needs. As a result, our client list includes the largest and most significant national and multinational companies who benefit from Lens & Minarelli's services.