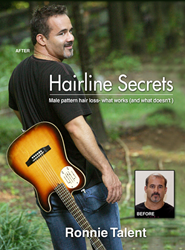 Charlotte, NC (PRWEB) May 22, 2014
Legacy Hair Center announced today the release of "Hairline Secrets" by owner Ronnie Talent, illuminating technological breakthroughs to millions of men with thinning hair.
"Most people don't address their hair loss until they've lost a great deal," says Talent, who has worked with industry giants such as Bosley Medical Group, Hair Club, and most recently his own firm Legacy Hair Center (http://www.legacyhaircenter.com). "Over the past 10 years there have been tremendous developments in the fields of non surgical hair replacement and hair restoration. No matter what their hair looks like now, men could realistically look the way you want to look in a matter of weeks."
"Many men see that their hair is getting thinner, and they think they'll just shave their heads," continues Talent. "That's great, provided they have a nicely shaped head. But what we often see is this: guys shave their heads and then hate the way they look. They don't have to do that anymore. There are great technologies available, and our hope is that "Hairline Secrets" can help spread the message to men and women who might be looking for answers.
"Hairline Secrets" is a Kindle eBook available on Amazon.com. It will be available at no cost on May 28th & 29th, 2014.