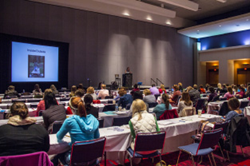 Worth every penny! Thank you for such and amazing, energizing, and inspirational experience.
Denver, Colorado (PRWEB) May 22, 2014
The Sensory Processing Disorder (SPD) Foundation announces an impressive lineup of experts and topics for the 17th International 3S Symposium to be held at the Tempe Mission Palms Hotel in Tempe, Arizona on November 7 and 8, 2014.
Each year, the world-renowned faculty challenge attendees to expand their horizons by critically evaluating evolving trends in the field, making this conference a must-see educational event. This year's panel of experts is from across the country and will present the very latest findings in SPD research and evidence-based treatment, strategies to use in schools and clinics, practice management help and successful implementation of programs. Among the presenters are: Dr. Lucy Jane Miller, SPD Foundation; Dr. Elysa Marco, University of California San Francisco; Jane Case Smith, PhD, OTR, The Ohio State University; Alice Carter, PhD, University of Massachusetts Boston; Patricia Davies, PhD, OTR, Colorado State University; Carol Van Hulle, PhD, University of Wisconsin- Madison; Matthew Goodwin, PhD, Northeastern University; Diane Parham, PhD, OTR, University of New Mexico and several other experts in the field of SPD.
This two-day symposium will have two tracks each day, covering material beneficial to both professionals--who diagnose, treat, and teach children with sensory challenges--and parents. SPD is a neurological disorder that disrupts the way an individual processes and responds to sensations. A person with SPD usually has difficulty with social interactions, emotion and behavior regulation, and/or motor performance. SPD affects daily activities and relationships impairing quality of life and includes the sensory challenges associated with attention deficit disorders (ADD and ADHD), autistic spectrum disorders, anxiety disorders, emotional and behavioral disorders, learning disorders, and other developmental issues.
Other special activities include a tour /demonstration of using a playground as a tool during therapy, Starry Night Dinner Gala and exhibitors showcasing the newest and most advanced sensory solutions on both days of the symposium during breaks and lunches.
The symposium is open to occupational therapists, physical therapists, speech language pathologists, educators, medical professionals, mental health care providers, researchers, parents and any others interested in learning more about SPD.
Past attendees have raved about the 3S Symposium:
--"Worth every penny! Thank you for such and amazing, energizing, and inspirational experience. "
--"Thank you for putting this wonderfully supportive symposium [together]. This is my first time and I am glad I persuaded my hospital how important this symposium [is]. Additionally, I loved the lunch format I met some great people."
--"This was a wonderful course. The speakers were excellent with good knowledge. Presentations were informative and easy to follow. They all spoke well and provided treatment strategies along with education. Could not have asked for a better conference."
Over the past decade, the International 3S Symposium has attracted a multispecialty audience and provided a broad and well-rounded educational experience for all participants involved in the care of individuals with sensory challenges.
Find more details and registration information visit: http://www.regonline.com/spdsymposium-tempe. Early bird registration discount ends July 31, 2014.
ABOUT SENSORY PROCESSING DISORDER FOUNDATION The Sensory Processing Disorder (SPD) Foundation, a Colorado 501(c)(3), is the world leader in research, education, and awareness for Sensory Processing Disorder, a neurological condition that disrupts the daily lives of more than 4 million Americans. The SPD Foundation offers educational programs, conducts SPD research, and provides resources for parents worldwide. Dr. Lucy Jane Miller, widely recognized as a leader in SPD research worldwide, founded the SPD Foundation in 1979. The SPD Foundation provides hope and help to individuals and families living with SPD. For more information, visit SPDFoundation.net or call 303-794-1182.