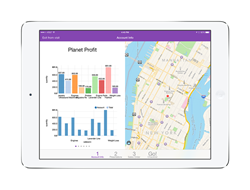 "The rep shouldn't have to go looking for the information, it should be there at their fingertips when needed."
Cranford, NJ (PRWEB) May 21, 2014
Typically reps have to access different CRM and/or ERP systems and navigate through many screens to get a picture of their next prospect or client. All of which is not ideal when on the road and requires hauling laptops or is cumbersome on tablets.
"The key here" says Jesus Repetto, Co-founder and CEO of NubiQ, "is to gather the information the rep needs, streamline it, and give it to him or her instantly before the start of their next in person sales call. The rep shouldn't have to go looking for the information, it should be there at their fingertips when needed"
"This is the reason, after 20+ years of managing salespeople that we created the NubiQ software suite", says Repetto. NubiQ is an iPad APP plus a Web Platform which can connect to a company's backend and pre-digest the information for the rep. This information is presented in step 1 (Prep & Analyze) of 4 of any sales call and arms them for the next 3 steps, presenting using videos, pictures etc (step 2), selling and negotiating terms (step 3), 4 sending the order to the company's ERP and NubiQ's Web Platform.
As an added bonus, NubiQ keeps track of price and business rules, so if a rep exceeds the pre-approved discounts or terms it automatically generates a request for approval ticket that can be accepted or denied in one click from the web platform.
NubiQ is not just for reps, it's also for managers and marketing teams allowing both to measure effectiveness on the road.