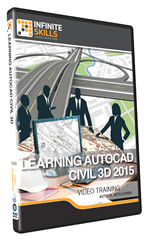 Learn AutoCAD Civil 3D 2015 at your own speed
(PRWEB) May 20, 2014
Software training firm Infinite Skills Inc. this week introduced its "Learning AutoCAD Civil 3D 2015 Tutorial," a course designed to get student and professional engineers up and running with the powerful modeling capabilities of AutoCAD Civil 3D.
AutoCAD Civil 3D 2015 differs from regular AutoCAD versions in the way that it manages project data and the relationship between data and its display. Civil 3D supports Building Information Modeling workflows. Using a dynamic engineering model, it allows for better modeling and collaboration possibilities, helping teams explore civil engineering projects fully through the digital model before construction begins.
Infinite Skills' Learning AutoCAD Civil 3D 2015 Tutorial Video provides a working foundation, explaining the most important tools for designing in AutoCAD Civil 3D, and exploring several real-world applications such as modeling corridor and pipe networks, as well as the programs capabilities for collaboration through the cloud.
Learning AutoCAD Civil 3D 2015 Training - Tutorial
Course author Seth Cohen is currently a vice president of training at CADManage, a consulting company for AutoCAD Civil 3D and other CAD programs. He is an AutoCAD 2012 Certified professional, and an AutoCAD Civil 3D implementation expert with a level five certification as a geospatial technical specialist.
Cohen's experience in training and using AutoCAD Civil 3D makes the "Learning AutoCAD Civil 3D 2015 Tutorial," a fun and effective way to quickly put this complex program to use in engineering practice.
Following an opening chapter exploring the basic interface of AutoCAD Civil 3D, its workspaces, the ribbon, toolspace, and properties, among other features, Cohen covers the key elements of AutoCAD Civil 3D models, starting with data points and their tools and management, and how to incorporate data from a survey and run survey queries.
From there, Cohen explores model creation, explaining how to create and work with surfaces, how to manage alignments, how to share 3D data, and create assemblies and subassemblies, along with several other key design elements.
Additional chapters cover pipe and pressure pipe networks, and working with point clouds, parcels, sheets, and more.
"AutoCAD Civil 3D is a powerful civil engineering tool that creates smart relationships between design objects so design changes are automatically updated," Cohen explains.
"With this smart technology, everything from surfaces and alignments to corridors will update automatically based on their relationships with other objects."
"By the end of this course, you should have a working understanding of AutoCAD Civil 3D, and be able to start using the program in real-world engineering practice."
Free demo videos and a full list of course contents can be found on the Learning AutoCAD Civil 3D 2015 training page of the Infinite Skills website:
http://www.infiniteskills.com/training/learning-autocad-civil-3d-2015.html
Infinite Skills offers its Learning AutoCAD Civil 3D 2015 in DVD format and as a direct download from the company website at a retail price of $99.95, or as part of its new subscription service at a rate of $25 per month. All titles and formats are compatible with Mac and Windows operating systems. Shipping is available around the globe. Additionally, Infinite Skills tutorials are supported by project files which correspond to examples in the videos, allowing users to work alongside experienced instructors right on their computer or iPad.
About Infinite Skills Inc.
A leader in the field of software training, Infinite Skills designs its courses on a task-oriented model, teaching complex skills by providing hands-on examples and guiding users as they carry out essential functions. Infinite Skills offers a wide range of software titles available as DVDs, digital downloads, and in iPad editions. Infinite Skills now offers a subscription service, providing access to all its training content for a monthly fee, keeping with company's aim of delivering professional training to customers anywhere they want to learn.