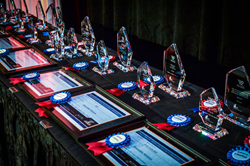 Las Vegas, NV (PRWEB) May 27, 2014
The 15th Annual Call Center Week is proud to announce the Finalists for the prestigious Excellence Awards. The awards honor and recognize the most innovative contact center solutions and executives in 12 industry categories. The winners will be announced during the Awards Ceremony Luncheon, which will be held during Call Center Week, on Wednesday, June 11, at Mandalay Bay Resort & Casino in Las Vegas.
"I am delighted to announce the finalists for the Excellence Awards and recognize the winners for their exceptional work in the industry," said Lisa Schulman, Executive Producer of IQPC's Call Center Week. "We received an outstanding roster of applications, and these finalists have shown that they have the ability and dedication to go above and beyond to exceed all expectations."
The finalists, recognized for their superior thinking, creativity and execution within the call center industry, are listed below alphabetically and by category:
BEST IN CLASS CALL CENTER (OVER 200)
Delta
New York Life
UPMC Health Plan
BEST IN CLASS CALL CENTER (UNDER 200)
CareerBuilder
GuideWell Connect
Indiana University, University Information Technology Services
BEST LEARNING & DEVELOPMENT PROGRAM
Discover
ePerformax
PHH Arval
VOICE OF THE CUSTOMER
Discover
Starwood Hotels and Resorts Worldwide
UPMC Health Plan
CREATING A CULTURE AWARD
Sutter Physician Services an Affiliate of Sutter Health
MDwise
New York Life
CALL CENTER LEADER OF THE YEAR
Roy Gaunce, Director, Customer Service & Contact Center Operations, Humana
Becky, Ploeger, VP Mult-Channel Sales & Service, Kohl's
Ufone
Walgreen Co.
CORPORATE SOCIAL RESPONSIBILITY AWARD
Comerica Bank
Lawrence & Schiller TeleServices
PGi
BEST SOCIAL MEDIA CUSTOMER CARE PROGRAM
Discover
PGi
Startek
NEW RISING STAR
Chad Wright, Vice President of Commercial Operations, MicroAutomation
Abby Garcia, Technical Support Specialist, MINDBODY, Inc.
Ryan Wall, GlobalMeet Expert, PGi
BEST NEW MOBILE CUSTOMER STRATEGY
Discover
Solix
Ufone
BEST OUTSOURCED PROVIDER
Alorica, Inc.
Publicis Touchpoint Solutions, Inc.
United Nearshore Operations
iQor
eTech Global Services
HGS USA
BEST TECHNOLOGY SOLUTION PROVIDER
Harver in association w/ arvato Benelux
IntelliResponse
SmartAction
KANA, A Verint Company
AMC Technology
Bright Pattern
Award winners will be appearing in the Expo Hall Presentation Theater on Thursday, June 12. Winners will be interviewed by Brian Cantor, Managing Director of Call Center IQ, to discuss the best practices they use to excel in the industry. Visit the Expo Hall and learn from the winners for free when you register for a free expo pass: http://bit.ly/1j5hjFW.
For more information on the Call Center Week Excellence Awards, please visit the website: http://bit.ly/1k2dGpB.
Register today to attend the 15th Annual Call Center Week and learn from industry leaders recognized at the awards luncheon. To register, please visit http://bit.ly/1mSqDmi or call 1-800-882-8684. For more information, download the agenda: http://bit.ly/1k2dIxG.
About IQPC:
IQPC produces 1,500 global events that are custom-tailored to the unique needs of business executives. Founded in 1973, IQPC leverages an office network that spans six continents and a wealth of intellectual capital to provide an unparalleled portfolio of conferences and seminars. For more information, please visit http://www.iqpc.com.
Contact:
Gahwui Kim
Jr. Divisional Marketing Director
IQPC
646-502-3266
Gahwui(dot)kim(at)IQPC(dot)com