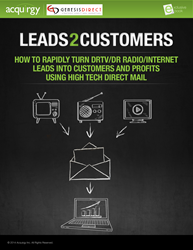 St. Petersburg, FL (PRWEB) May 22, 2014
This eBook is designed to showcase recent technological advances in direct mail that result in a high level of personalization and customization, and rapid deployment. It will also present actual examples and a case study. This eBook is for marketers who generate leads for products or services, and are looking for the optimal way to respond to them.
In a ground-breaking ebook, the authors cover these topics:

The pro's and con's of responding to leads by direct mail and email
When does a postal mail response to leads make sense
High tech direct mail options
Personalization
Variable data printing
Personalized URLs (PURLS)
Gallery of examples
Speeding up postal mail responses
Cases
Says David Comar, President of Genesis Direct, "In these days of instant messaging, tweets, and real-time email confirmations, marketers might not think of direct mail as instant enough to be effective. The truth is, with the latest technologies available today to direct mail marketers, direct mail is a lot faster than most think, plus the quality and level of the responses can be superior. For certain products and services, or to specific target audiences, direct mail, whether utilizing data driven personalization or incorporated as part of a multi-channel strategy, delivers the highest ROI."
Added Irv Brechner, EVP, Corporate Communications at acquirgy, "When choosing how to follow up on leads generated by DRTV, radio and online, marketers need to choose the tactic most likely to lead to the highest conversion rate, taking into account creative messaging, personalization and timing. Direct mail is definitely important to consider alongside other response mechanisms."
Get your complimentary copy of this important eBook at: http://l2c1.acquirgy.net.
About Genesis Direct
By utilizing the latest data and analytic technologies, along with our proprietary database cultivation tools, we are able to uncover and better leverage targeting opportunities. We achieve truly customizable, effective database marketing campaigns that get you the results you need. We call it "Next Generation Direct-Channel Marketing," and we believe it's the apex of where direct marketing has been headed over the last decade. Are you ready to connect better? Learn more at http://www.genesisdirect.com.
About Acquirgy
Acquirgy (http://www.acquirgy.com) is an Acquisition Marketing Agency developing and executing accountable marketing programs driven by immediate and measurable response metrics across all digital and traditional platforms. Proprietary tracking systems integrate all transactional media, logistic and response data from all platforms to optimize client profitability. Acquirgy's CustomerAcquisition IntelCenter (http://www.acquirgy.com/intel) offers 100+ papers, briefs, ebooks and more on proven best-practices tactics and strategies.