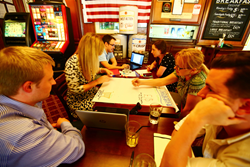 Not only will we hopefully create a new solution for one client, or even multiple clients, but we will create a new way of working
(PRWEB UK) 20 May 2014
On 22nd and 23rd May, product data feed experts FusePump will be hosting their first ever internal hackathon – with the aim of producing a brand new service for one of their clients.
The event at their Farringdon headquarters is expected to be the first of many, as the company experiments with a new way of delivering high quality solutions to their clients.
Six teams – made up of staff members from across the company, both technical and non-technical – will be given a data set from one of FusePump's clients, Chain Reaction Cycles. They will be tasked with engineering a new way of using the data for any online channel, and the solution must be commercially viable (time and cost effective), innovative, original and, importantly, reusable.
FusePump specialises in optimising and managing product data feeds, with high quality data currently being fed into 655 online channels. Nearly 40 million products, from holidays to mobile phones to shoes, are pumped out by the company on a daily basis, and they recently took home the Advertiser Innovation award thanks to their innovative 'BuyNow' solution for Nokia.
Richard McKnight of Chain Reaction Cycles said: "We are excited to be involved with FusePump's Hackathon. We are particularly looking forward to joining the review panel and getting a chance to evaluate the products each team develops.
"The idea of using our data to develop new product concepts, or provide solutions to completely new digital marketing channels, is great – and something that could be very valuable to our future business growth.
"Over the last 18 months, FusePump's team has assisted us through migrating our feeds for digital channels when we changed our website platform, and helping to achieve growth in areas such as product listing ads and affiliate marketing channels."
FusePump CEO Robert Durkin commented: "We have a wealth of talent at FusePump, and we are keen to make the most of that. I know that if we get everyone working together, with a little bit of time pressure, something positive will come out of it.
"Not only will we hopefully create a new solution for one client, or even multiple clients, but we will create a new way of working. The 'hack day' format should open up more possibilities for us, in terms of delivering added value to our clients."
At 3pm on Friday 23rd, all teams will present their ideas to a panel of judges (McKnight, Durkin and Matt Bailey from Performance Horizon Group) – along with a demo of their product.
"There are sound business reasons behind this approach," said Durkin, "But for our inaugural hack day we are mainly keen that our colleagues get to flex their technical and creative muscles and have fun."
Follow #FPHackathon on Twitter to see how the teams get on.
ENDS