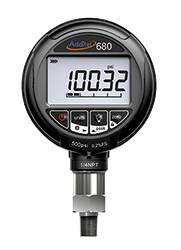 Vernon Hills, IL (PRWEB) May 20, 2014
For process and manufacturing applications, the new Digital Pressures Gauges with Fifteen-Channel Wireless Capability from Davis Instruments offer convenient features that make one's job easier. Store up to 140,000 readings of pressure, temperature, and more for tracking and analyzing performance trends. Read up to 36,000 psis (2500 bar), an exceptionally high range, for high-pressure applications.
The IP67-rated pressure gauges use a 2.4 GHz transmitter which provides wireless data transfer from one to 15 gauges to a PC. A 5-digit display shows pressure, % of full-scale graph, and temperature. The display is backlit for easier reading. An icon-based programming menu makes it easy to use for pressure measurement.
Select from 16 models with various pressure ranges. For more information on the Digital Pressures Gauges with Fifteen-Channel Wireless Capability, go to Davis.com/20941 or call 800-358-5525.
Davis Instruments has been one of the world's leading sources of test, measurement, control, and calibration instruments since 1912. With expanding capabilities in industrial spheres such as power and utilities, petrochemicals, aerospace and electronics production, field services, and construction, the organization continues to respond to technological demands. Based in Vernon Hills, Illinois, Davis Instruments is dedicated to providing customers with excellent service and product applications expertise. For more information, contact Davis Instruments, 625 East Bunker Court, Vernon Hills, IL 60061. In the U.S.A. or Canada, call 800-358-5525. International customers, call 847-327-2000. Visit us at http://www.Davis.com.