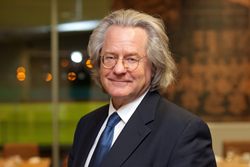 London, UK (PRWEB UK) 21 May 2014
Professor A C Grayling, Master of New College of the Humanities delivered a lecture to Wotton's Society at Eton College, on 15.05.2014.
The visit is one of around 150 visits being made by academics from New College of the Humanities in 2014 as part of the College's outreach and widening participation programmes.
Over thirty students attended the lecture along with staff. Professor A C Grayling spoke for an hour about "The Philosophical Basis of Civil Liberties: Privacy & Freedom of Expression." He then took questions from the floor, after which one of the student secretaries of the Society, Benjamin Barnard, gave a lucid summary of Professor Grayling's talk.
Mr Michael Wilcockson, Head of Philosophy at Eton College, said: "We are delighted to welcome Professor A C Grayling to the college. It will be a fantastic opportunity for our students to deepen their understanding of this topic."
Professor A C Grayling said: "Eton College is one of a number of schools my academic colleagues from NCH and I are planning to visit. I always look forward to sharing and exchanging ideas with students, and hearing the thoughts of students and staff alike."
A C Grayling MA, DPhil (Oxon) FRSL, FRSA is Master of the New College of the Humanities, and a Supernumerary Fellow of St Anne's College, Oxford. Until 2011 he was Professor of Philosophy at Birkbeck College, University of London. He has written and edited over thirty books on philosophy and other subjects; among his most recent are "The Good Book," "Ideas That Matter," "Liberty in the Age of Terror" and "To Set Prometheus Free."
New College of the Humanities combines the best of the broader US liberal arts tradition with the depth of a single honours undergraduate degree taught through high-intensity, one-to-one and small group teaching.
The College's rolling applications process is independent of UCAS and applications can be made in addition to the five UCAS choices and can still be made for entry in 2014.
Visit http://www.NCHum.org for all enquiries and applications.
Ends
For further information, please contact: Desi Lyon, New College of the Humanities
desi(dot)lyon(at)nchum(dot)org
+44 (0) 20 7291 1385
Notes to Editors
About New College of the Humanities
New College of the Humanities (NCH) offers a new model of higher education for the humanities in the UK. NCH students enjoy one of the best staff-to-student ratios in UK higher education and benefit from a high number of quality contact hours as well as engaging and challenging one-to-one tutorials.
Our professors are international experts in their fields and our full time academic staff members have been selected for their proven ability and enthusiasm for teaching in addition to their research interests.
NCH prepares students for undergraduate degrees in: Economics BSc, English BA, History BA, Law LLB, Philosophy BA, Politics & International Relations.
In addition to their 12-module degree, all NCH students study a further eight modules. This comprises four modules from another degree subject, Art History, Classical Studies or Psychology as a contextual course and three core modules in Applied Ethics, Logic & Critical Thinking and Science Literacy. All students also follow the College's Professional Programme.
The College is centrally located in Bloomsbury, London's university district and students, as associate members of the University of London, have access to many of the resources of the University of London: the exceptional library in Senate House, the University of London Union, sports facilities, and many other opportunities to enrich themselves through extra-curricular activity.