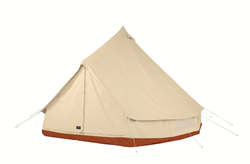 San Francisco, CA (PRWEB) May 21, 2014
Shelter Co. is excited to announce the launch of Shelter Co. Supply, a new line of luxury camping goods and outdoor products, with the release of their Meriwether line of canvas tents. For the past three years, the San Francisco based company has provided fully furnished versions of the tents for camping trips, weddings, music festivals and a wide range of other outdoor events. The custom tents are now being sold to the public for the first time through Shelter Co. Supply's online shop. More items will be released throughout summer and fall of 2014.
Each tent is 16 feet in diameter and stands 9.5 feet tall at the center, large enough to comfortably sleep 4-6 adults. The tent includes stakes and poles and has a dry weight of 75 pounds with a fully attached waterproof vinyl ground sheet and water resistant canvas upper. Ventilation on the Meriwether comes from a fully closable front screen door as well as four closable sidewall screen windows and three screened vents at the apex. Setting them apart from the competition, Shelter Co. constructs their tents to meet or exceed NFP 101 and CPAI 84 standards for flame resistance, making them legal for sale in all 50 states including California. They are the only US based company who meets these standards for this particular style of tent.
The Meriwether tent retails for $1,250 and comes in three groundsheet colors: Burnt Orange, Slate Grey and Classic Khaki. Pricing includes shipping in the US.
ABOUT SHELTER CO.
Shelter Co. is a luxury pop up lodging service catering to groups looking for an overnight outdoor experience. Founded by Kelsey and Mike Sheofsky, an event planner and furniture fabricator, respectively, the idea was born out of a love for California's diverse landscape combined with nolstagia for the days of summer camp. Shelter Co. provides fully furnished canvas tents and all necessary amenities for group camping trips, weddings, family reunions, corporate retreats and music festivals. Their events provide the simple joys of the outdoors without the hassles of a typical camping weekend. They provide everything from furnished tents and restrooms to full service catering and activities. Enjoy a unique experience in even the most far flung locations with all the comforts of home.
Shelter Co. currently has rental facilities in San Francisco and will be expanding to New York and Austin in summer 2014 to better serve the entire United States.