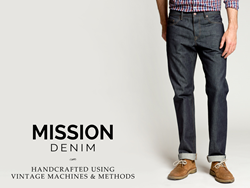 New York, NY (PRWEB) May 20, 2014
MISSION Denim, a new online-only premium jeans company, has launched a Kickstarter campaign to fund their first collection of American-made, raw selvedge denim. In less than 24 hours, the company has already blown by their goal of $20,000, and they still have 45 days to go. They have also launched their website, http://www.missiondenim.com, in conjunction with the campaign.
The company was founded by four friends who were tired of low-quality, over-priced denim on the market, and wanted to build a better pair of jeans. "Over the past decade, several of the largest jeans companies moved manufacturing overseas to lower their costs. Unfortunately, this often resulted in lower quality denim and garments that simply did not last," says Scott Goldscher who leads operations. "We strive to create the perfect pair of high-quality jeans, made in the USA, while selling online-only to offer better prices."
Inspired by the heritage of the classic American blue jean, MISSION aims to revive the quality and authenticity of denim from a different era. After finding a connection to a vintage pair of American-made jeans from prior to World War II, the team began to explore ways to restore the quality and craftsmanship of this small, but symbolic piece of history. To offer a longer-lasting, higher-quality jean, MISSION uses only raw selvedge denim, a type of denim that is made on vintage shuttle looms that take 30x as long to produce than most mass-market denim. The jeans are then handcrafted locally in the U.S. using vintage machines and methods to produce classic features such as chain-stitched waistbands and selvedge detailing. The quality is comparable to $300 selvedge jeans that are found in the luxury market, but by selling on Kickstarter, the company is able to offer these jeans for only $95. The company is also dedicating 5% of its profits to charity through its non-profit arm, MISSION Impact, which aims to provide clothing, shelter, and other basic human necessities to communities in need.
To get production started, their goal was to raise $20,000 on Kickstarter, which they did within hours of launch. For a contribution of just $95, you can get your hands on a pair of jeans from their first production run, and help play a part in their quest to rebuild American manufacturing, one pair of jeans at a time.
As an online company, MISSION Denim is fundamentally different from traditional brands in that 100% of sales are from their direct-to-consumer, e-commerce model. This allows the company to skip middlemen fees and traditional retail overhead costs – savings that the company passes on to customers through lower prices. Your favorite pair of jeans won't cost you upwards of $200 anymore.
The Kickstarter campaign for their Premier Raw Selvedge Denim line runs until July 4th. To learn more, visit the following links:

For additional information, photos, and interview requests, please contact info (at) missiondenim (dot) com.