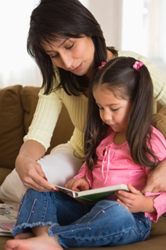 As the first celebration of its kind, Bilingual Literacy Month aims to raise awareness about the importance and benefits of raising bilingual kids.
MIami, FL (PRWEB) May 20, 2014
Read Conmigo, the award-winning bilingual literacy campaign for children sponsored by Infinity Auto Insurance, is still celebrating its first annual Bilingual Literacy Month. As the first celebration of its kind, Bilingual Literacy Month aims to raise awareness about the importance and benefits of raising bilingual kids. By providing parents with bilingual storybooks, apps, and a plethora of online resources, Read Conmigo bridges the gap for many Hispanic parents that hesitate to read to their children in English and Spanish due to the language barriers.
"Read Conmigo storybooks are an effective tool for promoting the development of English and Spanish language skills in young children," said Dr. Santiago Wood, Ed.D., Executive Director of the National Association for Bilingual Education. "I encourage families to celebrate Bilingual Literacy Month by incorporating reading time into their daily lives, especially with children who are in the crucial stages of early childhood development."
Bilingual Literacy Month continues to feature an array of exciting activities for families throughout the month, including:

Read Conmigo storytime sessions for children at Westland Mall in Hialeah and Southland Mall in Cutler Bay
Storytime session at a Miami area elementary school featuring Miami Marlins stars Henderson Alvarez and Jarrod Saltalamacchia
Storytime session at a Los Angeles area elementary school featuring author and storyteller Antonio Sacre
Bilingual Literacy Month's "Tell Us Your Story" essay contest in partnership with The Miami Herald
Participation at the Los Angeles Unified School District's Dual Language Institute for bilingual educators and parents
A chance to win a Kindle Fire HD when registering for a Read Conmigo subscription online during Bilingual Literacy Month
Opportunities to share photos and stories on social media via the hashtag, "#BilingualLiteracyMonth"
"We are proud to celebrate this inaugural Bilingual Literacy Month with Read Conmigo," said James Gober, Chairman and Chief Executive Officer of Infinity Property and Casualty Corporation, the parent company of Infinity Auto Insurance. "Infinity's purpose to serve others extends beyond affordable auto insurance. By supporting bilingual literacy, Read Conmigo brings families closer together and strengthens communities."
In addition, the Miami-Dade County Public School Board and the Los Angeles Unified School District Board of Education will be presenting a proclamation in honor of Read Conmigo's Bilingual Literacy Month. For more information on Bilingual Literacy Month news and events, please visit http://www.ReadConmigo.org.
About the Read Conmigo Bilingual Literacy Campaign
Read Conmigo, sponsored by Infinity Auto Insurance, is a parent-focused bilingual literacy campaign that encourages Hispanic parents to read to their children at home through the distribution of free English-Spanish children's books. The program has already distributed more than 750,000 free books to classrooms and Hispanic families, and receives support from more than 9,200 educators. The campaign creates opportunities for new Hispanic authors and illustrators. Infinity Auto Insurance employees, along with Read Conmigo authors and illustrators, engage their communities at special events, schools and libraries to foster bilingual literacy in young readers.