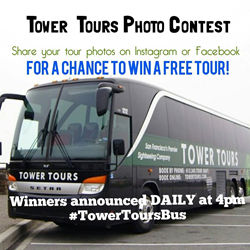 Interacting with #TowerToursBus via Social Media can win guests a seat on a future tour.
San Francisco, CA (PRWEB) June 01, 2014
Going into the busy summer, guests can now connect and interact directly with Tower Tours' Social Media.
Post a tour picture either on Facebook or Instagram with the hashtag #TowerToursBus for a chance to win a complimentary seat on any future tour booking. Winners are announced via Tower Tours' social media at 4:00 p.m. everyday.
Photos can be of a current tour guests are on, the famous Tower Tours bus or a favorite spot.
To view available tours, visit Tower Tours.