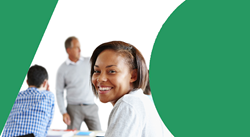 Academics like me must educate future HR practitioners in the art of equal treatment and justice.
London, UK (PRWEB UK) 21 May 2014
Anyone looking to embark on a career in human resources must be aware of the ever-changing nature of the UK job market, which can be a hard thing for those who don't have the experience or resources to stay up to date. Luckily, the human resources degree students of GSM London benefit from the experience and industry knowledge of their head of HR & organisational behaviour department Marcia Hazzard, whose sound opinions have recently been circulated in renowned publication HR Magazine.
Detailing the impact on the HR sector of the introduction of tribunal fees last year, Hazzard talks about how the future of the industry rests on the education of future HR practitioners who are studying at degree level. GSM London are already well regarded for their strong career-focused approach to degree study and their impressive support systems in place for all of their students from diverse and varied backgrounds, and this recent publication further bolsters this reputation.
Hazzard summed up human resources teaching at GSM London saying, "Academics like me must educate future HR practitioners in the art of equal treatment and justice. We should be empowering them to ensure that they have the skills to balance the demands of the employment relationship with the challenging business environment in which they operate."
It is this empowerment that Hazzard talks about that makes so many students feel safe in the knowledge that they chose the right higher education institution to give them the best possible start towards their chosen future career. What more could a prospective GSM London human resources degree student want from their education than a head of course with experience as a HR practitioner that has been given a seal of approval from a top HR publication? Click here to read the article.
To find out more about GSM London's human resources programmes and their other exceptional courses give them a call today on 0208 516 7800 to see about attending one of their open days to talk to staff, students and lecturers.