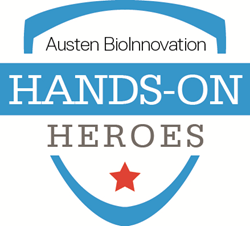 Realism is essential to successful training, and Hands On Heroes takes learning to the next level.
Akron Ohio (PRWEB) May 20, 2014
The Austen BioInnovation Institute in Akron (ABIA) today announced an expansion of its medical simulation training and introduced Hands On Heroes, an extensive and immersive training solution for Ohio's first responders. Hands On Heroes offers emergency medical technicians (EMTs) and paramedics the opportunity to recertify and train using interactive, real-world simulations in a controlled environment.
Unlike many continuing education options that provide only classroom training, participants in Hands On Heroes experience authentic situations designed to mimic scenarios a first responder might encounter in the field. Simulations in the training center, located in downtown Akron, are intense and realistic, featuring fully functional, life-sized anatomical human models – or manikins – that breathe and possess the capability to replicate signs and symptoms of ill or injured patients.
"Realism is essential to successful training, and Hands On Heroes takes learning to the next level," said Dr. Michael Holder Jr., who leads ABIA's Next Generation Workforce Education and Training Division. "Our immersive courses build confidence and communication skills that foster exceptional teamwork and allow first responders to become more effective in their jobs and their communities. The standardized, immersive experiences improve readiness and skills of these crucial public safety professionals."
Since 2012, ABIA has offered several certification courses and trained more than 10,000 medical professionals on the latest techniques to improve patient interactions. As part of the new Hands on Heroes program, ABIA will offer 10 certification programs that cover everything required for Ohio and National Registry certifications. The courses include, but are not limited to, basic and advanced life support, cardiac and pediatric care, disaster and mass causality incident training, trauma triage and the ability to work with providers to build new protocols and procedures.
Sessions run from ABIA's unique training center benefit from the facility's fully functional mock hospital, decontamination area, internal and external disaster spaces, simulated operating room, eight standardized patient rooms and numerous monitoring and control rooms. The facility also houses a 120-seat, state-of-the-art auditorium and four after-action debriefing rooms, all of which are outfitted for real-time video conferencing.
However, the Hands On Heroes courses and simulations can be conducted either at ABIA's downtown Akron site or at the provider's location using the mobile training unit – a repurposed mobile intensive care unit suited for transport simulation and delivery of programming to remote areas.
ABIA is an approved Ohio Emergency Management Agency continuing education provider. Approximately 4,000 initial emergency management services certifications and 11,000 certification renewals are processed each year in Ohio.
To explore Hands on Heroes' offerings or register for upcoming courses, visit http://www.handsonheroesohio.com or call 330-572-1667.
About Austen BioInnovation Institute in Akron
The Austen BioInnovation Institute in Akron (ABIA) – an exceptional collaboration of Akron Children's Hospital, FirstEnergy, John S. and James L. Knight Foundation, Summa Health System, and The University of Akron – brings innovative minds together to create economic and personal vitality by inspiring patient-centered discovery and invention. The ABIA partnership accelerates the time from idea to commercialization of new technologies and solutions by bringing together world-class scientists, physicians, engineers, researchers and entrepreneurs in the biomedical product and polymer science industries. ABIA works to secure Ohio's economic future through its patient-centered product innovation and cutting edge health workforce training. For more information about ABIA, please visit http://www.abiakron.org.