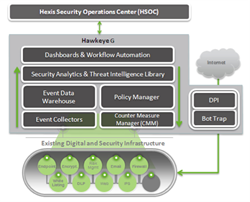 Reston, VA (PRWEB) May 22, 2014
The Cloud Front Group today announced a strategic partnership with KEYW Holding Corporation and its subsidiary Hexis Cyber Solutions, Inc. (Hexis) to bring the next-generation threat investigation and removal solution, the HawkEye G, to Cloud Front Group's portfolio of emerging technologies to aid the federal government community.
HawkEye G, The Active Defense Grid, solution empowers continuous detect, investigate and removal of advanced threats within the network before anyone is able steal data, compromise intellectual property or cause process disruption. Enabling security analysts to save valuable time and resources while proactively defending their networks through automated monitoring, activating countermeasures, conduct detail forensics investigations and continuously receive updates to protect against emerging threats.
"Hexis Cyber is excited to partner with Cloud Front Group to deliver advanced cybersecurity solutions to the intelligence and war-fighter communities," said Pat Reilly, Hexis Cyber's vice president of worldwide sales. "Together we'll provide leading-edge solutions for automated malware removal before it can steal data, compromise intellectual property or cause process disruption."
"The alignment of Hexis and Cloud Front Group represents a substantial value proposition for both companies by driving the adoption of the HawkEye G within the Intelligence and Public Sector communities. As a trusted advisor to the federal government we are excited to be able to offer this break through technology that automatically detects and removes advanced threats and malware and automates response across multiple platforms and environments," John Mackay, President of the Cloud Front Group stated. "We look forward to the debut of our relationship at the DI2E Plugfest event in May where we will be jointly providing demonstrations and information on the HawkEye G solution."
Cloud Front Group, Inc. was formed to provide consulting, technical architecture and implementation services that simplifies acquisition and reduces fielding costs to the intelligence, war-fighter and public sector communities. Acting as the trusted advisor, Cloud Front Group strives to understand each unique business challenge and tailor specific solutions leveraging leading edge technologies and the partnership with Hexis represents a key component of these efforts.
About Cloud Front Group
Cloud Front Group is an agile business with expertise in cybersecurity, big data analytics, and mobility gained through decades of hands-on experience providing solutions to the intelligence and war-fighter communities. Cloud Front focuses on improving the nation's analytics capabilities while addressing the reality of a vastly reduced funding landscape. The Cloud Front Group is a privately held company located in Reston, Virginia.
Learn more at http://www.cloudfrontgroup.com.
About KEYW
KEYW provides agile cyber superiority, cybersecurity, and geospatial intelligence solutions for U.S. Government intelligence and defense customers and commercial enterprises. We create our solutions by combining our services and expertise with hardware, software, and proprietary technology to meet our customers' requirements. For more information contact KEYW Corporation, 7740 Milestone Parkway, Suite 400, Hanover, Maryland 21076; Phone 443-733-1600; Fax 443-733-160; E-mail investors(at)keywcorp(dot)com; or on the Web at http://www.keywcorp.com.
About Hexis Cyber Solutions
Hexis Cyber Solutions, Inc., a subsidiary of The KEYW Holding Corporation based in Hanover, Maryland,provides complete cybersecurity solutions for commercial companies, government agencies, and the Intelligence Community (IC).
Our mission is to ensure that business IT infrastructure is equipped with tools and capability to detect, engage, and remove both external and internal cyber threats. Cyber terrorists, organized crime, and foreign governments focus tremendous effort on commercial, government, and military interests as their prime target. Hexis Cyber Solutions' HawkEye family of products offer active, multi-disciplined approaches to achieve a higher standard of cybersecurity that is based on our expertise supporting our nation's cybersecurity missions to ensure that your business or organization can operate at its maximum potential. For more information contact Hexis Cyber Solutions, 7740 Milestone Parkway, Suite 400, Hanover, Maryland 21076; Phone 443-733-1900; Fax 443-733-1901; E-mail info(at)hexiscyber(dot)com; or on the Web at http://www.hexiscyber.com.