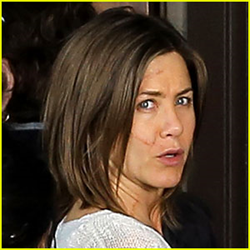 A woman struggles to rebuild her life as she battles chronic pain.
(PRWEB) May 21, 2014
Is it possible this scarred, anguished face disguises one of Hollywood's most glamorous icons? The gash on Jennifer Aniston's right cheek isn't real, but the emotions behind her frightening make-up are dead serious.
That's how far Jennifer Aniston is willing to go to show that the main character in her new indie film "Cake" is in great pain.
"It takes courage for an actress of Jennifer Aniston's stature to show that how chronic pain can transform a person in such a shocking way. When viewers see her on the screen, they will experience pain in a new light—if it could happen to her it could happen to anyone," says pain management specialist Reza Ghorbani, MD, ABIPP, FIPP.
He is the creator of NOXICARE ™natural pain reliever, a product of TRUCEUTICALS LLC®
Aniston, known primarily for her comedic turn as Rachel in the sit-com "Friends", decided to put on a tragic mask to portray Claire—a woman who survives a fatal car wreck that drastically changes her life in an instant.
As the main character and executive producer of the film, Aniston has the personal stature to raise awareness and deliver an important message. For those living in pain, Aniston's performance will be a source of hope and inspiration while validating their experience.
Unlike Aniston, there's nothing glamorous about chronic pain. Tens of millions suffer from a variety of debilitating conditions that leave them disabled and desperate. Even though one of pop culture's most repeated themes is the sensational prescription drug overdose, far less attention is paid to chronic, unremitting pain and the availability of natural, non-addictive ways of treating it.
"A car wreck is an appropriate metaphor to focus public attention on a frequently misunderstood problem that has immediate and long term consequences. Those enduring many forms of chronic pain will take comfort in Claire's struggle and resilience. If anything, Cake is a powerful statement that people in pain are not alone, says Dr. Ghorbani.
Dr. Ghorbani is also the author of "Secrets to a Pain Free Life".