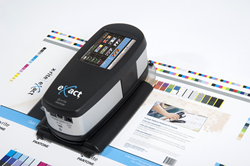 The eXact Scan adds value to the eXact platform far beyond its incremental cost. - Warren Werbitt
Grand Rapids, MI (PRWEB) May 21, 2014
X-Rite, Incorporated today announced the availability of eXact™ Scan, a new option that extends the functionality of the X-Rite eXact spectrophotometer platform. eXact Scan adds unmatched speed, flexibility and new quality control tools to the market-leading eXact™ color measurement instruments for the printing and packaging industries.
When combined with InkKeyControl software from X-Rite, eXact Scan enables color management at a low cost of entry, enabling printers to extend the useful lives of their presses. InkKeyControl allows printers to achieve faster make-ready and improve quality control through control of ink keys. It displays real-time measurement results in a graphical red/yellow/green "traffic light" report, which enables press operators to quickly manage changes as they print.
"The eXact Scan adds value to the eXact platform far beyond its incremental cost," said Warren Werbitt, CEO of Pazazz Printing in Montreal, a certified G7 Master Printer that specializes in conventional offset printing up to 56 inches, digital printing, flexo and digital labels, packaging, wide format and mobile solutions. "We first migrated to the eXact to make the transition from using print density in quality control to the more accurate spectral readings.
"In addition, with the Scan option, we have more capability to deliver the higher quality our customers expect. With eXact Scan, we can now comfortably hold on to an older press that we were not ready to update or retire." Pazazz was a beta test site for eXact Scan.
The eXact Scan option extends the instrument's ability to accurately read conventional and non-continuous strips for quality assurance applications, such as flexo printing for packaging. Also, it is the ideal solution for offset litho printers that have large capital investments in older presses that aren't equipped with in-line color measurement capabilities.
"X-Rite eXact has been well-received in the marketplace," said Dan Magnia, print and packaging market manager for X-Rite. "Building on that success, we developed eXact Scan in response to suggestions from our customers about how to add even more value to the instrument. With expected high product demand, X-Rite is proud to offer a loyalty program to current eXact owners so they can be the first to take advantage of upgrading their equipment to include this new capability."
With a few simple steps, pressroom personnel can install the new eXact Scan chassis and software to greatly extend the ability of the eXact spectrophotometer to accurately read different length color bars on a variety of printed materials.
In addition, eXact Scan can:

Transfer data to an application such as Microsoft® Excel for further analysis and reporting; and,
Integrate with the new 2.5 release of ColorCert®: X-Rite Edition to allow operators to scan color bars, including user-designed color bars, and provide full insight into potential production issues.
X-Rite eXact, including the Scan option and all associated software solutions, is available immediately on a worldwide basis through X-Rite channels and directly from X-Rite. For more information about X-Rite eXact and other X-Rite solutions, please visit http://www.xrite.com/eXact.
About X-Rite
Founded in 1958, X-Rite, Incorporated is a global leader in color science and technology. With its wholly owned subsidiary Pantone, X-Rite employs more than 800 people in 11 countries. The company's corporate headquarters are located in Grand Rapids, Mich., with regional headquarters in Europe and Asia and service centers across Europe, the Middle East, Asia, and the Americas. X-Rite Pantone offers a full range of color management solutions used by manufacturers, retailers, printers, photographers and graphic design houses to achieve precise management and communication of color throughout their processes. X-Rite Pantone products and services are recognized standards in the printing, packaging, photography, graphic design, video, automotive, paints, plastics, textiles and medical industries. For further information, please visit http://www.xrite.com. For the latest news, information and conversations, connect with X-Rite on LinkedIn, Vimeo, Twitter, and Facebook.
About Pantone
Pantone LLC, a wholly owned subsidiary of X-Rite, Incorporated, has been the world's color authority for nearly 50 years, providing design professionals with products and services for the colorful exploration and expression of creativity. Always a source for color inspiration, Pantone also offers paint and designer-inspired products and services for consumers. More information is available at http://www.pantone.com. For the latest news, trends, information and conversations, connect with Pantone on Twitter, Facebook and Pinterest.
©2014 X-Rite, Inc. All rights reserved. X-Rite is a registered trademark of X-Rite, Inc. All other trademarks are the property of their respective owners. PANTONE® and other Pantone trademarks are the property of Pantone LLC. © 2014. All rights reserved.