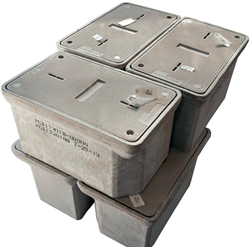 Our focus is delivering products and services that bring our customers value.
Memphis, TN (PRWEB) May 21, 2014
Power & Telephone Supply Co. (Power & Tel) and NewBasis announce they have reached a non-exclusive reseller agent agreement for the US, Canada, Brazil, and Mexico. This agreement allows Power & Tel to sell and distribute NewBasis industry-best pads and below ground enclosures for telecommunications, electrical, cable, water, traffic, lighting, and industrial applications. The objective of this partnership is to utilize both companies' strengths to efficiently supply the largest selection of composites in the infrastructure market, which includes polymer concrete and fiberglass.
"We feel this partnership will bring value to NewBasis, Power & Tel, and more importantly to the infrastructure marketplace," stated Chris Sanford, VP of Sales for NewBasis. "Power & Tel has successfully been serving communication customers for over 50 years, and their proven inventory management capabilities and marketplace leadership enhance our ability to distribute our products."
Tom Tighe, Executive VP, Sales & Marketing at Power & Tel said, "Our focus is delivering products and services that bring our customers value. NewBasis provides us a product line known for its industry reliability and also the most recent advances in materials and manufacturing." Tighe added, "By partnering with NewBasis, Power & Tel can offer our customers a variety of standard and custom solutions for their pad and below ground enclosure needs."
About Power & Tel
Founded in 1963, Power & Tel's extensive distribution system provides service providers and contractors an effective way to get the wide-range of products needed to build and maintain communication networks. As a value-add partner, the company also offers efficient solutions for the management of material and transactions; asset visibility; and maximizing resource & facility capacity. Company headquarters are located in Memphis, TN, with branch offices and distribution centers throughout the United States, Canada, Mexico, and Brazil. Power & Tel's inventory, experience and technologies can help reduce the costs within your supply chain and allow you to reach your profit objectives. To learn more visit http://www.ptsupply.com or call 800-238-7514.
About NewBasis
NewBasis is a premium manufacturer of underground enclosures, pads, and related hardware made from fiberglass (FRP) and polymer concrete. NewBasis products are made in the United States from American components. NewBasis actively serves the telecom, utility, DOT, commercial and industrial markets across North America.
NewBasis products meet or exceed ANSI/SCTE 77, ASTM C857 and are WUC 3.6 certified. In addition, NewBasis polymer boxes and pads are UL classified (BTAT.R26461). NewBasis also utilizes 3rd party testing for independent verification.
To learn more visit, http://www.newbasis.com