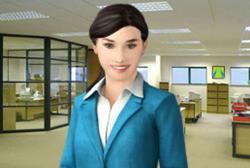 Our Virtual Banking Assistant Sara gives us a means to engage conversationally with website visitors and guide customers through processes step-by-step around the clock.
London, UK (PRWEB) May 29, 2014
Creative Virtual, a leader in customer experience self-service solutions for global enterprises, today announced the launch of its new virtual assistant implementation powered by Creative Virtual's V-Person™ technology for Commercial Bank of Dubai. Commercial Bank of Dubai provides personal and corporate banking services within the United Arab Emirates. They pride themselves in being a progressive and modern banking institution, and selected Creative Virtual's innovative technology to include as part of their new website.
"One goal for the launch of our new online banking portal was to provide our customers with an innovative and personalised experience," says Frans Jan Burkens, Deputy General Manager, Personal Banking Group, Commercial Bank of Dubai. "Our Virtual Banking Assistant Sara gives us a means to engage conversationally with website visitors and guide customers through processes step-by-step around the clock. We selected Creative Virtual as our vendor of choice because their sophisticated and flexible natural language technology allows us to offer a seamless, integrated experience across devices and channels."
Commercial Bank of Dubai officially launched their new online banking portal, including virtual assistant Sara, on 20 March 2014. The website is mobile enabled and, in addition to being available on the public website, the virtual assistant is also located within the secure log-in area where she can assist customers with tasks such as form completion. The V-Person is integrated with live chat and seamlessly escalates users needing further assistance to a live agent. The animated avatar creates a fun experience for users through interactions such as waving and tapping on the screen after a period of inactivity and, when used after hours, appearing in a darkened office.
"Innovation is at the heart of our technology and company culture at Creative Virtual, and it is exciting for us to be working with Commercial Bank of Dubai as they share that vision as well. Sara has been a joint effort for our UK and Netherlands teams, and is already receiving positive reviews from users and creating a buzz in the media," says Chris Ezekiel, Founder & CEO of Creative Virtual. "With V-Person technology, organisations are able to deliver consistent, personalised and convenient engagements throughout the customer journey in a way not possible with more traditional approaches to the customer experience."
Future plans for "Ask Sara" include the development of an Arabic version as well as further integrations to provide an even more personalised user experience. Commercial Bank of Dubai's V-Person can be accessed via the red Virtual Assistant tab on the right side of their website as well as on a mobile device.
For additional information on Creative Virtual, please visit http://www.creativevirtual.com and join us at the FStech Omnichannel Banking Conference on 19 June 2014 in London.
About Creative Virtual
Creative Virtual is a leader in self-service customer experience management solutions for enterprises. Global organisations like HSBC, Verizon, CA Technologies, E*TRADE, Lloyds Banking Group, Renault and National Rail Enquiries rely on our technology to optimise their customer support, sales, marketing and call centre teams, reduce costs, increase online sales, and achieve operational excellence across mobile, web, and social media channels. Since 2004, Creative Virtual has built the most advanced technologies in knowledge management, natural language processing, and virtual assistants to help businesses deliver intelligent, personalised customer experiences that reduces email and call volume, builds brand loyalty, and increases customer engagement at a lower cost per conversation. Delivering accuracy of over 90% and call deflection of up to 50%, our platform is the most compelling self-service product in the world today. For more information about Creative Virtual solutions, products and software, please visit our website at http://www.creativevirtual.com.
About Commercial Bank of Dubai
Commercial Bank of Dubai was established in 1969 and is registered as a Public Shareholding Company. The Bank is listed on the Dubai Financial Market and is fully owned by UAE Nationals, including 20% by the Investment Corporation of Dubai. Over the years, Commercial Bank of Dubai has built itself into a progressive and modern Banking institution, endowed with a strong financial structure and strong management, as well as a loyal and ever increasing customer and correspondent base. Today Commercial Bank of Dubai is one of the leading banks in the United Arab Emirates and offers its customers a full range of personal and commercial banking products and services through its network of 26 branches and 2 cash offices, together with an extensive network of over 200 ATMs/CDMs.