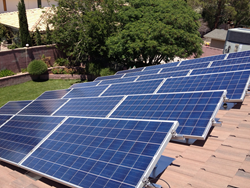 ... we believe in formulating customized financial options for our customers.
Las Vegas, NV (PRWEB) May 22, 2014
Service 1st Energy Solutions is taking the time to provide the most factual and updated information to their customers, as they consider their opportunities to purchase or lease a solar energy system. In a city such as Las Vegas, where monetary solar incentives typically used for leasing have been few and far between, the average consumer has become accustomed to the idea of purchasing a solar system. However, with recent solar competitors entering the area, and local incentives around the corner, solar leasing has become a hot topic of conversation, causing consumers to wonder which option is best.
As a local company of Las Vegas, Service 1st Energy Solutions decided to review the most compelling differences between leasing and purchasing and then apply these ideas to their customers' lives. What they have found is that every customer's situation is unique and different, requiring a diverse approach to selling solar solutions to Las Vegas residents. For instance, Service 1st Energy Solutions has seen that leasing can be effective, but only for specific customers. When Service 1st considered all the factors for a leasing customer, they realized that the power of solar is really in the purchase.
"We offer leases," says Tim Fromhart, President of Service 1st Energy Solutions. "We offer leasing because we want our customers to have a choice, and for some people, leasing is beneficial. However, the majority of our customers are candidates for ownership. According to what we've researched so far, solar purchasing is an excellent investment for our customers. We believe that it comes down to educating our customers and helping them see the possibilities of solar ownership."
Service 1st established that there are a few distinct considerations for consumers interested in solar leasing:
1. After 20 years of payments (or completion of lease term), customers still don't own the solar system.
2. Most likely, leases have an escalator, which can make payments after a specific year much higher than expected.
3. Leases are often constructed with the idea of decreasing the power bill, not elimination thereof.
4. Since homeowners who lease never actually own their system, they never receive truly FREE power.
After reviewing these, Service 1st looked at owning a solar system and what that offers to consumers:
1. No prepayment penalties for financed systems, so homeowners can enjoy truly FREE power faster.
2. No escalator involved in the payment structure; hence, transparent financing.
3. Homeowners can easily, completely eliminate their power bills.
4. Consumers who own their solar systems experience added value to their property, increasing the resale price with this asset.
"We certainly understand how solar leasing can be attractive to some Las Vegas residents," says Fromhart. "Solar energy is a great asset for a home and it provides a valuable return on investment. That's why we believe in formulating customized financial options for our customers."
One by one, Service 1st Energy Solutions is communicating with consumers, sharing facts about solar financing methods and providing education about the differences between leasing and owning.
About Service 1st Energy Solutions
Service 1st Energy Solutions specializes in energy efficient packages including HVAC upgrades, weatherization options and solar power for both Las Vegas residences and commercial businesses. With over 25 years of experience serving southern Nevada, Service 1st Energy Solutions focuses on educating consumers about energy efficient solutions. Installations completed by Service 1st Energy Solutions include over 15,000 solar panels that are currently generating over 2 megawatts of solar power to the Las Vegas area.