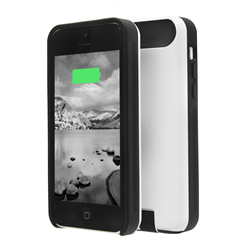 Dallas, TX (PRWEB) May 21, 2014
When Apple launched the iPhone 5C, it opened the door for budget-minded consumers to own an Apple smartphone. It seems that accessories manufacturers didn't get the message though, with seemingly none offering add-ons for the lower-priced iPhone model. LifeCHARGE is rectifying that oversight with a new high-quality battery case designed exclusively for the iPhone 5C.
According to a recent Shibley Times (http://www.stableytimes.com/news/iphone-5c-vs-5s-hidden-cost-case-accessory-discrimination/16389/) article, iPhone 5C owners may not be getting as great of a deal as they think. That is because the "iPhone 5C is slightly thicker than the iPhone 5S," meaning "accessories which work for one may not work for the other. And carrying cases are the most notoriously incompatible in this regard." The news publication further claims, "we have yet to track down a single manufacturer offering a battery case which fits the thicker body of the iPhone 5C."
Mobile accessories manufacturer LifeCHARGE has some good news for iPhone lovers who don't want to spend a fortune on a phone: The publication is wrong. In fact, LifeCHARGE recently released a battery case designed specifically for the iPhone 5C. And with its built-in 2000mAH lithium-polymer battery, it offers eight added hours of talk or video playback time.
For more information about how the LifeCHARGE battery case fits the thicker design of the iPhone 5C like a glove, contact OnTrion's Jesse Khurana. To learn more about the battery case, visit the manufacturer on the web at http://www.mylifecharge.com.
###
CONTACT INFORMATION:
13650, TI Blvd., Suite #309
Dallas, TX 75243
(877)676-0877