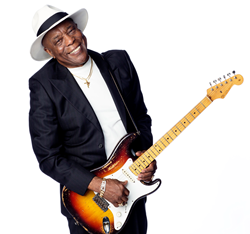 Fairfield, CT (PRWEB) May 20, 2014
Fairfield Theatre Company continues to bring the heat this May and June by taking their audiences down to the crossroads with blues guitarist Albert Cummings and a special evening at the Klein Auditorium with Buddy Guy & Los Lobos.
Producing powerful music has always come naturally to Albert Cummings. The Massachusetts native learned the requisite three chords on the guitar from his father, but switched to playing banjo at the age twelve. He quickly mastered the banjo, winning several picking awards while in high school. While in college in 1987, he saw Vaughan perform and was floored by his virtuosity. He was inspired and soon returned to the guitar with a new outlook and resolve.
It wasn't until he was 27, an age when other musicians were either already established or had long ago put their dream aside for the realities of life, that Cummings finally decided to go for it. He hit the ground running, and found himself sharing a bill with Double Trouble, the late Stevie Ray Vaughan's rhythm section. So taken with Cumming's fire and passion were bassist Tommy Shannon and drummer Chris Layton that they volunteered to play on and produce his debut record.
In 2003, Cummings released the aptly-titled "From the Heart (Under the Radar)," with the awesome power of a Nor'easter and the soul of a natural born artist. King of the Blues, B.B. King (who Cummings acknowledged with a funky version of "Rock Me, Baby"), dubbed Cummings 'a great guitarist.' In an era of cowboy-hatted poseurs, Cummings has delivered the goods straight from the heart and shoulder with a wallop generated by his talent and drive.
Coming now to Fairfield Theatre Company's StageOne at 7:30 p.m. Saturday, May 31 in support of his latest release, "No Regrets," Albert Cummings proves that he is a man of his times and the man for the times. He has taken tradition and built his own musical edifice that expresses his thoughts and dreams. It's a vision that alternately excites and soothes while providing a glimpse of his unlimited future. The best is certainly yet to come for Albert Cummings.
But this is just the beginning; FTC is delighted to announce that Buddy Guy and Los Lobos will be playing together at the Klein Auditorium at 8 p.m. Thursday, June 5th. This is a must-see show for any blues enthusiast and music lover.
Being one of the most celebrated blues guitarists of his generation (or any generation), Buddy Guy possesses a sound and style that embodies the traditions of classic Chicago blues while also embracing the fire and flash of rock & roll. Guy spent much of his career as a well-regarded journeyman, and is cited as being a modern day master by contemporary blues fans. Guy continues to tour as one of the biggest blues acts of our time.
Guy comes back to perform once again at the Klein Auditorium in support of his latest album, "Rhythm & Blues." Replete with heartfelt vocals, straightforward lyrics and mesmerizing guitar licks, "Rhythm & Blues" not only exemplifies how blues continues to be the foundation of all genres of today's music, but it also illustrates why Guy has been so influential.
Joining Guy for the night will be one of the most acclaimed American bands of the 1980s and '90s, Los Lobos were already seasoned musical veterans with nearly 15 years of experience under their belts when they scored their first hit in 1987 with a cover of Richie Valens' "La Bamba." Though their time as pop stars was short, the group won over critics and a legion of loyal fans with their bracing mixture of rock, blues, Tex-Mex, country, R&B and Mexican folk sounds, with the band's sound ranging from gentle acoustic ballads to the outer limits of experimental rock.
While often cited as one of the great bands of Latino Rock, Los Lobos' eclectic sound has in fact defined them as a vital example of America's cultural melting pot. Now add to the same bill the Grammy Award-winning blues pioneer, Buddy Guy, and is sure to be a night of epic proportions.
Join Fairfield Theatre Company and listen to these outstanding performers who will bring forceful and heartfelt blues to two of the best music venues in Fairfield County this May and June. For more information or to buy tickets, visit http://fairfieldtheatre.org/.
About the company:
Fairfield Theatre Company is a highly-acclaimed non-profit performing arts organization located in the heart of downtown Fairfield, Connecticut. FTC presents nearly 250 performances and concerts each year featuring outstanding national talent on FTC's StageOne in Fairfield, The Klein Auditorium in Bridgeport, and the Norwalk Concert Hall in Norwalk. FTC's intimate 200-seat StageOne concert venue is widely recognized as being one of the best places to see a live performance in the region. FTC is dedicated to providing the highest-quality arts, live entertainment and educational experiences to the communities it serves.