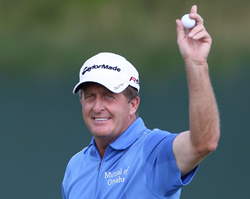 Whether you're a pro or an amateur, NOXICARE™ is the natural way to treat your pain.
Washington, DC (PRWEB) May 22, 2014
While the spotlight was on the senior pros at the Regions Tradition golf tournament for Sunday's final round, last Wednesday's pro-am event was a good sideshow.
"For amateurs in a pro-am being nervous is an understatement—petrified is more like it!" said Fred Funk, sponsored by NOXICARE ™, a TRUCEUTICALS, LLC ® natural pain reliever.
The Regions and pro-am were held at Shoal Creek in Birmingham, Alabama— a rare chance for fans to play side-by- side with the best.
"For most amateurs, their biggest problem is the set-up position—no balance, no angles or too many angles. Tension is another issue, and that begins long before the first tee," said Funk.
One of the match's top attractions, though not topping the leader board, was former NBA Star Charles Barkley. A local sports hero from his days at nearby Auburn University, Barkley has been less successful rebounding his athletic career on the golf course.
Of note is Barkley's halting swing that draws a lot of attention and some good-natured chuckles.
"My golf game's a little shaky," admits Barkley.
Given his experience as an eight-time PGA Champion and thirty years on the tour, Funk has witnessed a lot of amateur high jinx.
"I remember one incident where a guy fell into a lake; another fell into a bunker, another completely let the club go after impact and flew into the cart where his partner was sitting," says Funk.
While NOXICARE may not turn an amateur into a pro, its all-natural pain relief formula helps ease the aches and pains of a hard day on the links. At age 57, Funk says NOXICARE has been a big boost in helping him stay competitive with younger players.
In this year's Regions, Funk tied for sixteenth with a two-under, four round total of 286. "Since I started using NOXICARE, I don't need prescription painkillers that have dangerous side effects including addiction," says Funk.
"We're delighted that NOXICARE is one of Fred's constant companions on the tour helping him play without pain," says Reza Ghorbani, MD, ABIPP, FIPP.
Doctor Ghorbani created NOXICARE and is the president and medical director of the Advanced Pain Medicine Institute of Greater Washington, DC. He is also founder and CEO of TRUCEUTICALS LLC, makers of NOXICARE. In addition, he is the author of "Secrets to a Pain Free Life."