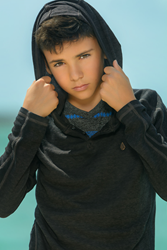 Miami, Florida (PRWEB) May 22, 2014
Daniel Skye, a young and up-coming pop artist from South Florida, and Sprayground, an urban graffiti-inspired fashion brand, team up together bringing fashionable and edgy backpacks to the youth culture across America.
Sprayground, a very modern and urban fashion brand has been working in conjunction with select celebrities including Chris Brown, to tap into the youth music culture. Now, they have selected Daniel Skye as their new youth ambassador, reaching younger and ecstatic markets. Daniel Skye is a 13-year-old pop singer from Miami, Florida, who has recently gained recognition of great producers and industry professionals, due to his large popularity with over 400k fans across social media platforms and youtube. He represents the young romantic, artist and pro-active teens of America and has become a young role model to kids who are now more in-tune with the arts and music. Sprayground is recognized as a brand that embraces art, talent, and contemporary philosophy, so their partnership with Daniel Skye has fallen into perfect cohesion. Together they represent urban and youth adventurous art.
About Sprayground
Founded by street artist David Ben David aka DBD in 2010, Sprayground (sprayground.net) originally started as a blank bag company offered to street artists as a canvas for their own expression. Sprayground has grown into a trend-setting and urban fashion with international distributors in 12 countries. Sprayground breathes music, graffiti and art and maintains a unique aesthetic appeal allowing the brand to stand in a class of its own. With top celebrities and athletes supporting the brand, Sprayground's innovative pioneering of the modern backpack continues to see success and international growth.
Based in New York, Sprayground is available nationwide at retailers like Kitson, Goliath, Atmos, Vault, Bodega, Foot Soldiers, and more.
About Daniel Skye
Daniel Skye is a 13-year-old singer based in Hollywood Florida. He is an enthusiastic young pop singer who throughout the past few months has touched the hearts of young girls in the United States and overseas. He deeply connects with his fans and communicates with them daily, inspiring their love for him. His fans have started their own 'SkyeHard' army and have shown a tremendous amount of support for Daniel Skye. With over 300k followers on instagram, Daniel has been featured on the popular page various times and is continuing to grow his fan base. Currently he is working on his own music planning future performances.