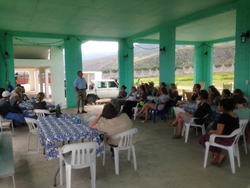 It is a treat to work with students who desire to develop their education by serving others and getting hands-on experience with these very serious issues.
Nashville, TN (PRWEB) May 21, 2014
In May of 2013, Belmont University in Nashville, TN partnered with LiveBeyond, a non-profit organization located in Thomazeau, Haiti, in efforts to nurture the university's community service-oriented focus. Since the union commenced, Belmont faculty and staff have traveled to Thomazeau, Haiti on two separate occasions to explore how their respective departments could align their skills and talents with the work being done at LiveBeyond.
On May 19th, 23 Belmont University students traveled with 2 faculty members to the LiveBeyond base in Thomazeau, Haiti for their first Global Health Maymester. The Maymester 2014 Global Health program will combine classroom experiences with mission/volunteer work at the LiveBeyond base such as: assist patients in outpatient medical clinic, assist in maternity clinic, participate in extracurricular activities & games with the orphans of Children of Hope Orphanage and Hospice and provide nutritional support, food and love to the "At Risk" residents of the Thomazeau community.
Courses offered will be REL 3950 Questions That Matter, taught by Dr. Martha Minardi and LIS 3950 Global Health Survey, taught by LiveBeyond co-founder and CEO, Dr. David Vanderpool.
Belmont University will send students and faculty to LiveBeyond in Fall of 2014, Spring of 2015 and again in Fall of 2015.
LiveBeyond is thrilled to have the students in Haiti for Belmont's Maymester. Dr. Vanderpool says, "This is a unique opportunity for these students to study Religion and Global Health Education here in Haiti, the poorest country in the world. Haiti is riddled with VooDoo, disease, malnutrition and limited access to sanitation. It is a treat to work with students who desire to develop their education by serving others and getting hands-on experience with these very serious issues."
LiveBeyond, formerly known as MMDR, was developed in 2005 in response to Hurricane Katrina. CEO and founder, Dr. David Vanderpool, has redirected the mission to focus on Haiti following the 2010 earthquake. Today, LiveBeyond's base resides on 64 acres in the region of Thomazeau, approximately 25 miles northeast of Port Au Prince. There are numerous NGOs operating in Haiti, most focusing on a single aspect of Haiti's needs. By contrast, LiveBeyond's scope of vision encompasses medical care, nutrition, maternal health, orphan care, education development, community development and infrastructure, agriculture and demonstration farms, clean water projects and community outreach visits to those with special needs. Within each of these ministries, LiveBeyond provides hope and prayer to the people of Haiti. LiveBeyond's missions statement states they are "an organization that chooses to Live Beyond… ourselves, our culture, our borders & this life so that others can Live Beyond… disease, hunger, poverty & despair."
Belmont University is a student-centered Christian community with a high emphasis on both academics and spiritual maturity. Their purpose is to ensure that each student maximizes his or her talents and applies them in community service. Belmont's mission statement describes them as a "student-centered Christian community providing an academically challenging education that empowers men and women of diverse backgrounds to engage and transform the world with disciplined intelligence, compassion, courage and faith." Belmont was recently ranked No. 7 in the Regional Universities South category and recognized as an "Up-and-Comer" university by U.S. News & World Report for the 6th consecutive year.