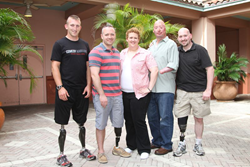 Cannes, France (PRWEB) May 21, 2014
Vision Films, a worldwide distributor of feature films, documentaries and music programming, and VSC announced today that they will release the highly acclaimed documentary Comedy Warriors: Healing Through Humor, which follows a group of wounded Iraq and Afghanistan veterans, as they work with Lewis Black, Zach Galifianakis, Bob Saget and B.J. Novak, who help them craft stand-up comedy routines, giving them a new perspective from which to view their injuries and their lives.
Comedy Warriors was chosen as one of the recipients of the Television Academy Honors Award. Given out each year by the TV Academy, this award honors programs that are uplifting, inspirational and even have the power to change lives. The recipients use the power of television to bring awareness to important social issues, and in the case of Comedy Warriors, veterans explore their experiences through the healing power of humor. 
Beginning the week of May 25, the recipients will be celebrated with special daily content on the Television Academy's digital platforms and on Yahoo TV.  Dana Delany will host the awards ceremony set for June 1 at the SLS Hotel in Beverly Hills. The Film's Producers John Wager, Ray Reo and Bernadette Luckett, and the Warriors - Bobby Henline, Steve Rice, Darisse Smith, Joe Kashnow and Rob Jones - will be in attendance along with Alex Saveliev, Director of Domestic Distribution for Vision Films. 
Vision Films is currently releasing Comedy Warriors digitally on iTUNES, Amazon, Vimeo, Walmart's Vudu, Hoopla, Overdrive, and Comedy Warriors will be available in stores everywhere and in Army and Air Force Exchange stores, under their special interest DVD label with VSC.
Lise Romanoff, Managing Director / CEO of Vision Films comments, "We are so proud to be releasing films that salute the men and women who risk their lives for our country and future generations, and we are so thankful for the filmmakers that have dedicated their creative talents to making sure these inspiring stories are told on the screen." 
Vision Films' next release this summer is going to be Operation Rock the Troops, a highly inspirational documentary, featuring amazing live performances from a rock band and a group of top models, who made it their mission to tour around the world supporting our Military troops and achieve success by changing people's lives with music. 
View more on Comedy Warriors here.
View more on Operation Rock the Troops here.
About Vision Films
Vision Films is a worldwide distributor of over 800 independent Feature Films, TV Movies, Documentaries and Music Specials.  Vision licenses all available rights from Theatrical, Video/DVD/Blu-Ray, Television and VOD/Digital Media rights to both the International and Domestic marketplaces.  Lise Romanoff is Vision's Managing Director/CEO, Worldwide Distribution.
For More Information: 
Alex Saveliev, Director of Domestic Distribution
14945 Ventura Blvd. STE 306 Sherman Oaks, CA 91403