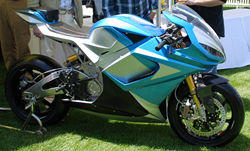 Turning The Sportbike World Upside Down...... With Electricity...
(PRWEB) May 21, 2014
With the successful unveiling at the Quail on May 17th, 2014, the Lightning team is energized and committed to deliver their first production run of Lightning LS-218 to the market. "The Quail event is incredible. Gordon McCall's Quail Motorcycle Gathering provided Lightning an unparalleled opportunity to meet with the most knowledgeable and passionate motorcycle enthusiasts in the world and obtain their feedback on our styling preview," said Richard Hatfield, CEO of Lightning Motorcycle.
Lightning built the first lithium battery sport bike in 2006. A pre-production version of our LS-218 superbike was the first electric motorcycle to exceed 200 at Bonneville setting a two way average of 215mph with a top speed through the timing lights of 218mph.
"Lightning made history when we won first overall at the Pikes Peak International Hill climb with one of our LS-218 superbikes. This was the first event where an electric vehicle competed and won a world class motorsports event racing against the best internal combustion bikes in the world," said Richard Hatfield. "This year the Lightning team is focused on our biggest challenge yet. We are taking our race proven technology to market and pursuing a win in the market place."
Lightning is taking reservation right now. Visit http://www.lightningmotorcycle.com to reserve your own Lightning LS-218 today.