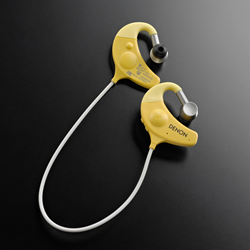 Mahwah, NJ (PRWEB) May 20, 2014
Get ready for summer by cutting the cord and enjoying wireless freedom during the workout. Enjoy pulse-pounding audio with Denon's Exercise Freak® wireless fitness headphones. Designed and tested by frequent exercisers to provide optimum comfort, outstanding sound and a secure fit for a variety of activities, Denon Exercise Freak in-ear headphones are the perfect super-lightweight fit, priced at $99 a pair. Featuring Bluetooth 3.0 connectivity and a secure behind-the-neck design, Exercise Freak headphones are designed to maximize movement while fitting securely and comfortably, making them outstanding for running, walking, yoga, hiking, weight training, etc. Exercise Freak headphones also feature an integrated microphone and controls to adjust music and take phone calls even during the most strenuous of workouts.
The Ultimate, Wireless, Sweat-Proof Fitness Headphones:
Whether just starting to get back into shape or training for a marathon, listening to music while working out can enhance performance, helping users meet fitness goals faster. In fact, clinical studies have proven that music enhances athletic performance by as much as 20%. And consider this, Exercise Freak wireless headphones can boost a performance by much more, since there are no wires to contend with.
Unleash Maximum Performance with Wireless Bluetooth 3.0 Connectivity:
Denon's Exercise Freak In-Ear headphones feature Bluetooth 3.0 connectivity. No more yanking at an earpiece when the cable gets tangled while walking or running, no more taping wires down on the body, no more running wires underneath a shirt, no more worries. With a range of up to 25 feet, set a smartphone down on a treadmill or on the floor when lifting weights at the gym for a hassle-free fitness experience.
A "Power Song" will push you to excel, thanks to professional tuning and an integrated amplifier:
The right song can be more motivating than a personal trainer or enhance a workout with one. Exercise Freak headphones feature an integrated amplifier and are professionally tuned to provide heart-pounding bass to energize your workouts, no matter what your power song is. These headphones feature a rechargeable battery to provide up to seven hours of pulse-pounding music (charging cable included) and gives audio alerts for low battery status and operation feedback.
Reflective Back band for safe evening workouts
The Exercise Freak In-Ear Headphones also include a reflector on the neckband to provide added safety for evening workout activities.
Take back Control…with Denon's Integrated Controls and Microphones
Denon's integrated controls allow users to adjust the volume, play/pause your music and even choose to answer that phone call… or ignore it.
Secure fit and sweat proof design allows you to focus on your workout
Denon is so passionate about making the best-in-class fitness headphones; the company tested several design prototypes on fitness gurus as they ran, walked, lifted weights, and even did yoga and finally came up with the right design. Denon's Exercise Freak Headphones feature a flexible neckband and articulating in-ear design to fit perfectly. These headphones were designed to be sweat proof and feature built in air cushions on each side for comfort and added ventilation. Exercise Freak headphones are tuned to provide a slightly accentuated bass curve for motivating workouts.
Denon Sport App Creates Maximum Results
With the Denon Sport Mobile App, the Exercise Freak is a virtual workout buddy designed to fit securely and comfortably in users ears during even the toughest sessions. In addition to a GPS tracking feature for outdoor activities, the App includes a workout journal to track fitness goals. With access to the online community via Facebook and Twitter, users can easily share workout progress with friends. The Denon Sport App even lets' users map location, speed and how long it should take to complete a run at the target pace! The Denon Sport App is available for free from the App Store on iPhone, iPad and iPod touch or at http://www.AppStore.com. It is also available at the GooglePlay store.
The Denon Exercise Freak Headphones AH-W150 are available in black, yellow and blue and have a suggested retail price of $99.00. Included with the headphones: a mesh carrying case with a karabiner (durable metal loop for secure connection), a micro USB cable (for charging battery), and antimicrobial silicon ear tips (available in XS, S, M, L). They are available at select Denon dealers and online at http://www.ExerciseFreak.com.
About Denon Electronics
Denon is a world leader in the manufacture of the highest-quality home theater, audio and software products. Denon is recognized internationally for innovative and groundbreaking products and has a long history of technical innovations, including the development and groundbreaking commercialization of pulse-code modulation (PCM) digital audio. Denon Electronics is owned by D&M Holdings, Inc.
About D+M Group
D+M Group is a global company dedicated to enhancing life through inspired sound solutions delivered anytime, anywhere. With a strong belief that "Performance is everything," D+M is focused on innovation to meet the needs of customers in an increasingly digital world. Serving the consumer, professional and automotive markets, D+M Group brands include Boston Acoustics®, Denon®, and Marantz®l. D+M Group has approximately 1,500 employees worldwide, with products and services marketed in more than 45 countries. D+M Group is a Bain Capital portfolio company.
All product and brand names with a trademark symbol are trademarks or registered trademarks of D+M Holdings, Inc., or its subsidiaries.
DISCLAIMER
Statements in this news release that are not statements of historical fact include forward-looking statements regarding future events or the future financial performance of the company. We wish to caution you that such statements are just predictions and that actual events or results may differ materially. Forward-looking statements involve a number of risks and uncertainties surrounding competitive and industry conditions, the ability to launch products on time and enable new features sets, market acceptance for the company's products, risks of litigation, technological changes, developing industry standards and other factors related to the company's businesses. The Company reserves all of its rights.