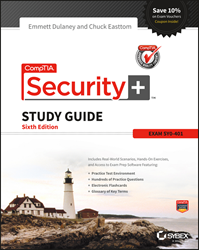 San Francisco, CA (PRWEB) May 22, 2014
To support CompTIA's recent announcement of the new Security+ exam, SY0-401, Sybex, an imprint of Wiley, announces CompTIA Security+ Study Guide: SY0-401, 6th Edition (Sybex; ISBN: 978-1-118-87507-0; May 2014). The guide covers 100 percent of the Security+ exam objectives with clear and concise information on crucial security topics.
The CompTIA Security+ Study Guide: SY0-401, 6th Edition features everything readers need to prepare for the 2014 version of the Security+ certification exam, including:

Key topics like network security, compliance and operational security, threats and vulnerabilities, access control and identity management and cryptography
Practical examples and insights to provide real-world context from two leading certification experts
Tools to take that first step toward advanced security certifications like CASP, CISSP, and CISA, in addition to satisfying the DoD's 8570 directive
Additionally, as a CompTIA Authorized Partner, Sybex is offering readers 10 percent off the non-member price of CompTIA exam vouchers when purchased through the CompTIA Marketplace. View additional information about the CompTIA exam voucher from Sybex.
"We're thrilled to be working with CompTIA and be first to market with training materials for their latest Security+ certification exam," said Chris Webb, Associate Publisher for Sybex. "Candidates who prepare with our training products will be able to approach the exam with confidence."
"Strategic partners such as Wiley are on the front lines improving workforce development, student employability and delivering long-term education value," said Terry Erdle, executive vice president, skills certification and learning, CompTIA. "Expanding our engagement with Wiley helps CompTIA fulfill one of its primary objectives – to prepare the IT workforce of today and tomorrow."
CompTIA Security+ Study Guide: SY0-401, 6th Edition is available for purchase online and at retailers nationwide. The book is available in both print and all e-book formats. For additional information, visit http://www.wiley.com/buy/9781118875070.
About Sybex®
For over 30 years, Sybex has published premium learning products and solutions for current and aspiring professionals working with cutting-edge technologies. Our customers come from every corner of the globe and work in a variety of industries, but they all have one thing in common—the drive to acquire the serious technical skills needed to excel in a competitive marketplace. Wherever you are in your career, Sybex can help you achieve your goals. For more information, visit sybex.com. Sybex is an imprint of Wiley.
About CompTIA
CompTIA is the voice of the world's information technology (IT) industry. Its members are the companies at the forefront of innovation; and the professionals responsible for maximizing the benefits organizations receive from their investments in technology. CompTIA is dedicated to advancing industry growth through educational programs, market research, networking events, professional certifications and public policy advocacy. For more information, visit CompTIA online and on Facebook, LinkedIn and Twitter.