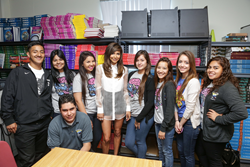 Los Angeles, CA (PRWEB) May 20, 2014
Award winning actress and recording artist, Naya Rivera celebrated with the students and staff at Alliance Collins Family College Ready High School in Los Angeles for winning the 2014 College Challenge. She was joined by E! News' Terrence Jenkins as they discussed the connection between learning and success in front of a school-wide assembly.
The California College Challenge, sponsored by Get Schooled and the California Student Aid Commission (CSAC), inspired 100% of Alliance Collins' seniors to apply to and be accepted into college for this fall. The friendly competition saw a 5 percent increase in FAFSA completion rates in the 44 participating schools, and was supported by the California Endowment and USA Funds.
Naya Rivera, a native of Los Angeles, applauded the students' commitment to their success despite obstacles and challenges that stand in students' paths. Naya said, "I'm proud to have the chance to celebrate with the Alliance Collins community and the investment they have made in themselves and their futures."
Get Schooled, a national non-profit, and CSAC, the California agency administering state-authorized financial aid programs for students, designed the Challenge to offer schools and students across the State highly engaging ways to explore college options, understand key requirements, and complete critical steps to accessing financial aid. According to data from the Organization for Economic Co-operation and Development, the United States has dropped from first to 11th in the world of college completion rates over the last decade. Educators have noted that a key driver in improving college completion rates is ensuring students are prepared academically and financially for college when they graduate from high school.
"Alliance Collins Family College Ready High School is an example of what can happen when an entire community comes together to support students in reaching their goals," said Marie Groark, Executive Director of the Get Schooled Foundation. "Get Schooled and CSAC are excited to show the school community that their hard work and commitment to creating positive futures did not go unnoticed."
A group of student leaders from Alliance Collins spearheaded the effort at their school by mobilizing their classmates to participate in the competition, apply to college and financial aid. As a result of their efforts, Alliance Collins' students seized the top prize, coming together to achieve a 100 percent participation rate in online activities such as chats with college experts and college exploratory sessions.
"Everything we do at Alliance Collins is aimed at helping our students successfully enroll in and complete a four-year college or university. The College Challenge was an important resource for our school, increasing buy-in from our students through college readiness information that was fun and relatable to students," explained Marco Ibarra, Assistant Principal at Alliance Collins. "Our 100% college acceptance rate is a testament to all the hard work put in by everyone in our community – both in school and out - to ensure our students are prepared for 21st century success."
To view more photos from Naya's visit to Alliance Collins Family College Ready High School visit Wireimage: http://tinyurl.com/nevafv6.
About Get Schooled
Get Schooled is a non-profit organization that directly engages and motivates students to graduate from high school and succeed in college. Get Schooled is the premiere education brand for young people – linking students with high quality, cutting edge resources and tools they need to succeed. Get Schooled has developed a track record of success because it engages with young Americans using the media, technology and popular culture that is an integral part of their lives. Get Schooled's work is boosted by partners like Viacom, the Bill & Melinda Gates Foundation and Google. Get Schooled works in close partnership with college access organizations across the United States in an effort to encourage students to access the financial aid they need to attend college.