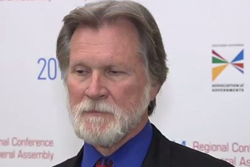 We need we make sure we get slightly ahead of the curve and that the education matches the types of jobs we anticipate as they occur to keep us economically viable.
Indian Wells, CA (PRWEB) May 28, 2014
The Southern California Association of Governments—also known as SCAG--and representatives of 191 member cities from 6 counties came together for its annual conference and general assembly here at the Renaissance Esmeralda Hotel. During the 2-day event, a number of breakout sessions featured frank discussions on matters deemed vital to the region's continued economic growth.
Of special significance to SCAG and the region as a whole is a new proposal recently submitted by the President to Congress that would provide $302 billion in funds for construction and repairs to the nation's aging highway system. Many experts agree that renovations and repairs to Southern California's transportation infrastructure are overdue and especially necessary for the uninterrupted flow of goods from the ports in Long Beach and Los Angeles to the rest of the nation. In an interview with California CEO Magazine, SCAG's Executive Director, Hasan Ikhrata, expressed cautious optimism about passage of a fully funded transportation bill that would fix the Highway Trust Fund before it runs out of money at the end of the current fiscal year.
"It's very important for our country, for our state and for our region. I can't help but feel optimistic that the future is brighter because frankly we must do something about the trust fund that's going broke. By September, if we don't have a bill or continuing resolution, the trust fund won't have any money to fix any part of the transportation system. For us to be globally competitive with other nations that are investing heavily in transportation, we must have a bill that answers all the questions that need to be answered," said Mr. Ikhrata.
While Southern California's transportation system may serve as a life-line for international and interstate commerce, the nation also depends heavily on the region for cutting edge research and development of technology for increased vehicle safety and fuel efficiency. Gregory Winfree, Assistant Secretary of Research and Technology at the U.S. Department of Transportation was the keynote speaker at this year's conference. He says that his agency works closely with major universities in the University Transportation Center Program including UC Berkeley and USC. In a discussion immediately after his speech Winfree said, "California is one of our lead hotbeds for training for the next generation of transportation professionals, but also importantly for issues like congestion management, mobility, the reduction of greenhouse gases and transit benefits."
But transportation wasn't the only topic of concern at this year's event, as educators, policy makers and stakeholders weighed in on the issue of education, particularly how to provide educational opportunities to those in need in order to prepare them to fill hi-tech sector jobs in the future. Carl Morehouse, SCAG's newly elected President thinks the solution may depend on the type of job opportunities that may be on the way.
"How do we find a workforce that is going to be matched with these jobs? The question is, what kinds of jobs are coming? That's one of the advantages of SCAG and its linkage to some of the universities that are doing research on this is to foresee what may be happening. Maybe it's not a 4-year degree. Maybe it's working more effectively with the community colleges and trade schools. We need we make sure we get slightly ahead of the curve and that the education matches the types of jobs we anticipate as they occur to keep us economically viable," Mr. Morehouse said.
In another development leading up to the conference, SCAG announced that it has adopted a new Public Participation Plan in order "to ensure the ongoing opportunity for broad-based participation in the development and review of regional plans and programs." Individuals who want to learn more about the Public Participation Plan, SCAG's initiatives, or the Southern California Association of Governments in general can visit SCAG's website at http://www.scag.ca.gov.
For More Information Contact
Jeff Allen
ACES/CaliforniaCEO
(951)454-2396
jallen(at)socalceo(dot)com