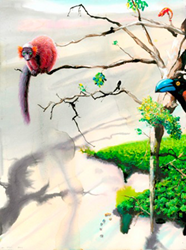 Art can't change the world but it certainly can change the way we see, think and feel about it. People must understand the awfulness of extinction. Without that there is little hope for the future of lemurs and life itself in its magnificent diversity.
Sarasota, Florida (PRWEB) May 21, 2014
Lemur Conservation Foundation (LCF) and Art Center Sarasota present 'Vanishing,' an exhibit from LCF's art collection. 'Vanishing' explores the world of lemurs, the most endangered primate species in the world.
'Vanishing' is curated by Mark Ormond, Curator of Exhibitions at Ringling College of Art and Design and member of LCF's art committee, and Emma Thurgood, Exhibition Coordinator at Art Center Sarasota.
The installation features nearly 20 participating artists including Jean Blackburn and Craig Rubadoux. Both artists have created stunning images of lemurs and their habitats in a variety of media. "Fragments," by Alexis Rockman, a beautiful but disquieting work depicting an imagined future with devastated lemur habitat, is also featured in the exhibit.
'Vanishing' is an expression of LCF's mission in its most creative form. The exhibit will bring you on a journey to Madagascar, the lemur's unique and mystical home. Conservation is a complex process. We invite you to feel the range of emotions that each original piece of art evokes, and hope that you will experience the urgency we feel as we work towards a future for lemurs, and embrace the natural world that sustains us with all its splendid treasures. Join us for the exhibit and reception:
'Vanishing,' is at Art Center Sarasota from 22 May through 27 June - 707 N. Tamiami Trail, Sarasota, FL. LCF will host a special reception sponsored by Steve Levin and Villa Serena Inn on 29 May from 6pm – 8pm, also at Art Center Sarasota.
About Lemur Conservation Foundation:
The Lemur Conservation Foundation was established in 1996 by Penelope Bodry-Sanders. LCF is a leader in the conservation and preservation of the primates of Madagascar through programs dedicated to scientific research, education, lemur propagation, with a commitment to infuse art into all of our mission programs. LCF is an American Association of Zoological Parks and Aquariums accredited, 100 acre, private habitat based in Myakka City, Florida. Our current lemur population of 44 animals thrives in naturalistic semi-free ranging habitats ranging in size from 9 to 13 acres. LCF is a respected voice for science, conservation, education, art, and lemurs, the iconic image of the conservation challenges and environmental stewardship issues facing Madagascar and the world today. Learn more about LCF and lemurs by watching this short video: Wild About Animals.