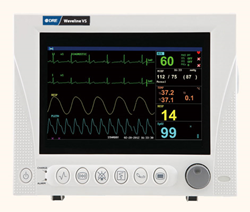 "This new vital signs monitor is a great solution for customers looking for a lot of versatility at a low price point." -Nathan Claypool, DRE Veterinary
Louisville, Ky. (PRWEB) May 22, 2014
DRE Veterinary — a new and professionally refurbished equipment supplier — is adding a new portable vital signs monitor to its already diverse selection of monitoring options.
The DRE Waveline VS is a multi-parameter monitor suitable for use with felines, canines and other animals. Weighing in at five kilograms, veterinarians and technicians can easily utilize the features of the Waveline VS in a variety of situations.
Nathan Claypool, director of DRE Veterinary and Health Services, said the new DRE Waveline VS is just one of the many monitoring options DRE offers to customers.
"This new vital signs monitor is a great solution for customers looking for a lot of versatility at a low price point," Nathan said. "It's a good addition to our line of monitors we've built to serve the unique needs of our clients."
The DRE Waveline VS comes standard with three-lead and five-lead ECG selection, RESP, SpO2, NIBP and temperature settings.
Veterinarians and technicians can view up to 11 simultaneous waveforms on the Waveline VS when they use the device's high-resolution, customizable display with large font options.
Get increased mobility with this Waveline's 14.8-volt rechargeable lithium ion battery.
DRE Veterinary's current selection of vital signs monitors also includes the DRE Waveline Touch, the DRE Waveline EZ and the DRE Echo CO2 Capnograph Monitor. Click here to view the full line.
About DRE Veterinary
For over 25 years, DRE Veterinary has worked with many of North America's top veterinary facilities and organizations. They provide products and services that make sense, save their client's time and money, and allow veterinary surgeons to do the things they do best. DRE Veterinary is located in Louisville, Ky.