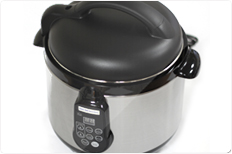 Save you up to 60% on your energy bill.
Montreal, Ontario (PRWEB) May 22, 2014
John Khoury, CEO of Cuisine Santé International Ltd. is pleased to announce the launch of their new 5 in 1 Digital Cooker. "This amazing new cooker will be a must have for the home," he stated "Our 5 in 1 is, as the name implies, is designed to replace 5 traditional small appliances." This compact cooker will prepare meals quickly and efficiently with its 5L capacity. The 5 in 1 will function as a slow cooker, steamer, browner, warmer and pressure cooker and as an added bonus it makes an amazing rice cooker as well.
Completely digital, this unique appliance also has a timer feature allowing for timed cooking. "One of my favorite features is the auto warm," claimed head chef Mike Ayoup. "Once your cooking time is complete the unit automatically switches to warm mode to keep your meal at an ideal temperature until you are ready to eat."
The 5 in 1 also allows for quicker cooking times which is another advantage over many traditional cookers. As well, many features allow for healthy cooking, such as using less water for vegetables. The exclusive chrome-titanium insert comes with a lifetime guarantee, giving you piece of mind and confidence.
This new cooker is featured during the Cuisine Santé Live Cooking Show events and will easily add value to any kitchen. For more information, or to see a live presentation, visit Cuisine Santé International Ltd.
Check out our new blog at http://cuisinesantereview.com.
Contact us:
1260 Old Innes Road Suite 601
Ottawa, Ontario, K1B 5L3
613-288-9020
E-mail: info(at)csil(dot)ca