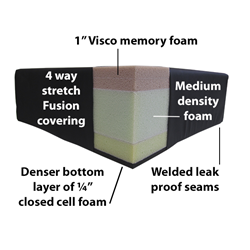 These premium mattresses are exactly what healthcare providers have asked for.
Winnipeg, Manitoba (PRWEB) May 20, 2014
Meditek has provided cushions, mattresses and pads to healthcare facilities for many years and will now offer only the newly designed, premium Sof-Care Deluxe model.
The premium Sof-Care Deluxe model was designed with two top priorities:

Patient comfort
Specific attention to infection prevention properties
Over the last four months, research and testing was conducted at multiple hospital sites, where it was overwhelmingly determined that the new model with completely sealed edges, making the perimeter seams fluid resistant, was the logical choice.
The main difference between most mattresses and Sof-Care Deluxe is that most mattresses have an inherent weak point - traditional bound sewn seams. The new Sof-Care Deluxe cushions have fully welded closed seams, which prevents cross-contamination.
"These premium mattresses are exactly what healthcare providers have asked for," says Tim Henry, Product Development Manager at Meditek. "We have taken their feedback, suggestions and input to develop these mattresses, and we feel it is a great product."
Meditek provides mattresses, pads and cushions for:

surgical tables
stretchers
CT scanners
exam tables
birthing beds
hospital beds
angiography tables
and much more
To learn more about Meditek, please visit http://www.mediteksurgical.com.
About Meditek – Meditek is a Canadian medical equipment supplier that provides a full line of high-quality healthcare products that promote efficiency, cost reduction and excellent patient care. The company's diverse product offering includes surgical lights, surgical tables, booms, video integration, and RFID technology.