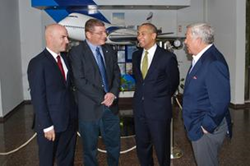 I'm very proud to be attending the mission to Israel to raise awreness, renew old Massachusetts-Israel partnerships and help to form new ones. - Judit Sharon, CEO of Waltham, MA based Onset Technology
Waltham, MA (PRWEB) May 22, 2014
Health care and technology leaders from the Bay State will be heading to Israel, Dubai, and UAE along with Gov. Deval Patrick on a trade and innovation partnership mission.
Gov. Patrick of Massachusetts and members of the delegation are scheduled to visit companies and business organizations in the innovation economy sectors from May 27 to June 4, 2014. The group will make several stops in Tel Aviv and Jerusalem, then Dubai, and finally Abu Dhabi in the United Arab Emirates.
The list of those attending the mission reads like a who's who of the Bay State tech world. It includes:

Barry Cohen, EVP Strategy, PTC
Tim Healy, CEO, Chairman and Co-Founder, EnerNOC
Avner Halperin, CEO of EarlySense
Robert Kraft, CEO & President of Kraft Industries
Fred Lawrence, President of Brandeis University
Nicholas Negroponte, Co-Founder & Chairman, MIT Media Lab
Tim Rowe, CEO of Cambridge Innovation Center
Ido Schoenberg, CEO of American Well
Joel Schwartz, Senior V.P. for global new business developments at EMC
Judit Sharon, CEO of Onset Technology
Kurt Schwartz, Undersecretary for Homeland Security & Homeland Security Advisor, and Director, Massachusetts Emergency Management Agency
Dr. Eric Silfen, Chief Medical Officer, Philips Healthcare
Dr. Peter Slavin, President, Massachusetts General Hospital
Dr. Kevin Tabb, CEO, Beth Israel Deaconess Medical Center
Judit Sharon, CEO of the Waltham, MA based Onset Technology (maker of OnPage) said, "I'm proud to be attending the trade mission to Israel with other health care and IT leaders to raise awareness, renew old Massachusetts-Israel partnerships, and help form new ones. In just the past couple of years, over 200 Israel-founded companies have come to call our state home, helping build Massachusetts' tech and health care economy."
Israel leads the world (per capita) in the number of scientists and technicians in the workforce, produces more scientific papers per capita than any other nation, and in proportion to its population, has the largest number of startup companies in the world.
Israel is also ranked #2 in the world for venture capital funds — right behind the U.S.
A leader in health care and health care research– Israeli scientists have used strands of DNA to create tiny transistors that can literally build themselves, alleviated Parkinson's -like symptoms in rats, and discovered how to turn mismatched cells into cancer fighters.
Last year, a report by the New England-Israel Business Council pinpointed the impact that Israeli-founded companies had on the Massachusetts economy following the Governor's 2011 mission to Israel. According to the study, Israeli-founded companies in Massachusetts booked $6.2 billion in revenue in the state in 2012 and employed nearly 6,700 people.The growth rate of Israeli companies in Massachusetts is now five times that of the Massachusetts economy as a whole.
Gov. Patrick will deliver the keynote speech at the U.S. – Israel Connected Summit. Hundreds of American and Israeli academic, business, and government leaders will participate in discussions on a diverse array of industry topics, including medical devices, neuroscience, eHealth, water tech, and cyber security.