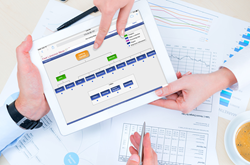 ComplianceTech is honored to be among this year's Top 50 Service Providers.
Arlington, VA (PRWEB) May 21, 2014
ComplianceTech, a provider of fair lending and HMDA/CRA software solutions, has been recognized as one of the year's Top 50 Service Providers by Mortgage Technology magazine. The magazine recognized ComplianceTech for its online fair lending analysis system Fair Lending Magic™. The system is used by lenders and enforcement agencies to monitor and investigate fair lending issues in lending. ComplianceTech met all four criteria outlined by Mortgage Technology to be considered for the prestigious honor-- continued service and technology advances; viable revenue model and value proposition to customers; exceptional customer service; and unique impact on the mortgage industry.
Fair Lending Magic™ 3.0 is a complete online fair lending solution used to effectively monitor a broad variety of fair lending risks including disparate treatment, disparate impact, redlining, reverse redlining and steering. In Fair Lending Magic™ 3.0 the existing web-based interface has been radically improved to allow users to see and experience a graphical process-flow for improved fair lending risk assessments and monitoring for underwriting and pricing performance by channel, product, branch, personnel and geography. The system contains all of the functional analysis tools necessary for a comprehensive fair lending monitoring system including a new data quality assessment tool, statistical analysis, underwriting and pricing match pairs and maps and charts.
Maurice Jourdain-Earl, one of the co-founders and Managing Director of ComplianceTech said the company is "honored to be among this year's Top 50 Service Providers." For over 22 years he said, "Our mission has been to provide our clients with technological solutions to address the thorny issues of discrimination in lending. Fair Lending Magic™ 3.0 is the most comprehensive and easiest to use fair lending software in the market. By using it everybody wins. Lenders are able to monitor their lending practices, fix the problems they find and thereby broaden markets and increase profitability. Regulators and enforcement agencies win by being able to rely more on technology and spend less time and resources on exams and investigations. Finally, all consumers win by having fair and equitable access to credit."
ComplianceTech, based in Arlington, VA is a leading provider of fair lending and HMDA/CRA solutions to the federal government, lending institutions, law firms, community organizations and researchers. The company's software products include LendingPatterns™, Fair Lending Magic™ 3.0, the Racestimator™, The Premium Pricing Analyzer, and Low-Moderate Income (LMI) and Minority Zip Code Opportunity Maps™. ComplianceTech's products are offered directly or through its reseller Questsoft.
For more information contact Dana Ginsburg at DanaGinsburg(at)compliancetech(dot)com or call her at 202-618-7079.