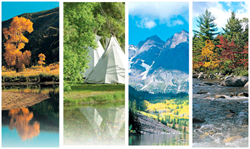 We recognize ILCC for continuing to focus on developing solutions to direct much needed financing to Indian nations.
ROSCOE, MT (PRWEB) May 21, 2014
Indian Land Capital Company (ILCC), an American Indian Community Development Financial Institution (CDFI) specializing in tribal land financing, announced today that it has received a $750,000 loan from Cleveland-based KeyBank. The 5-year loan, from the bank's Native American Financial Services division, will allow ILCC to assist tribal nations across Indian Country to acquire lands for business development, housing, and community-based infrastructure projects.
"With this loan, KeyBank continues its commitment to Indian Country and belief in the ability of Indian people to manage resources to determine their own futures," said Gerald Sherman, ILCC president. "I commend KeyBank for their leadership in this area and hope other major financial institutions will follow their lead in recognizing both the need and the opportunity of investing in Indian Country."
"As one of the first financial institutions to create a dedicated team serving the Native American market, KeyBank understands the importance of providing financing, liquidity and technical assistance to support economic development programs in traditionally underserved communities," said Mike Lettig, National Executive of KeyBank's Native American Financial Services division. "We recognize ILCC for continuing to focus on developing solutions to direct much needed financing to Indian nations."
ILCC is a Native owned and managed CDFI certified by the CDFI Fund of the U.S. Treasury Department. It provides flexible loan options to Indian nations for tribal land acquisition and has facilitated over $8 million in loans to 8 tribes in 6 states and the return of some 30,000 acres of land to tribal control. ILCC currently is working on finalizing an additional 3 new loans to 3 tribes in 3 new states totaling nearly $3.5 million. Projects made possible through ILCC financing include expansion of a health care facility, construction of homes for tribal members, sustainable forest management, wetland restoration, and protection of sacred and cultural sites.
###
About ILCC: ILCC was created in 2005 as a collaborative effort between Indian Land Tenure Foundation (ILTF) and Native American Community Development Corporation (NACDC) to address an identified need in Indian Country for financial mechanisms that offered full faith and credit lending options for tribal land purchases. ILCC has raised over $8 million in funds from socially conscious investment sources including ILTF, Ford Foundation, CDFI Fund, Wells Fargo Bank, Otto Bremer Foundation, First Nations Oweesta Corporation, Bank of America, and individual (gaming) tribes, and now KeyBank among others. Gerald Sherman has served on numerous Native community boards including the Indian Dispute Resolution Services, the International Advisory Council for the Native Nations Institute (NNI) at the University of Arizona, the Indian Nonprofit Alliance in Montana, and the newly formed Native CDFI Network. More information on ILCC and Mr. Sherman can be found at http://www.ILCC.net.
About KeyBank: Key traces its history back more than 160 years and is headquartered in Cleveland, Ohio. One of the nation's largest bank-based financial services companies, Key has assets of approximately $90 billion as of Dec. 31, 2013. Key's Native American Financial Services team offers one of the most robust financial platforms designed for Native American Nations and affiliated organizations, businesses and communities, with $1 billion in commitments and $1 billion in assets under management. For more information about Key, visit http://www.key.com. Banking products and services are offered by KeyBank National Association. Key.com is a federally registered service mark of KeyCorp. © 2013 KeyCorp. KeyBank is Member FDIC