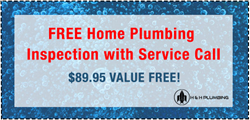 Phoenix, AZ (PRWEB) May 21, 2014
Plumbing repairs can cost home owners anywhere from hundreds of dollars up to several thousand depending on the issue. What at first seems like a small plumbing problem has the potential to develop into something much larger, costing the consumer more than they had bargained for. Many times, residents may not even be aware there is an issue brewing in their home, which is why H & H Plumbing, a leading company providing plumbing in Goodyear AZ, recommends their customers receive a thorough inspection of their home plumbing system to prevent the headache of costly repairs down the road.
For a limited time, H & H Plumbing is offering a no cost home plumbing inspection with service call – an $89.95 value. During the inspection, a certified technician will thoroughly check the home for leaky pipes, drains, and valves and will inspect the surrounding areas to ensure there are no further indications of water leakage. H & H Plumbing is dedicated to providing their customers with the complete package, and strives to encourage homeowners to take a more proactive approach to their plumbing needs with this special offer.
This discount is applied at the time of service and cannot be combined with any other special. To redeem the coupon, homeowners can visit http://handhplumbingaz.com/plumbing-coupons-specials-discounts. To learn more about home plumbing inspection, residents are encouraged to contact H & H Plumbing at (623) 322-9100.
About H & H Plumbing
H & H Plumbing is a leading commercial and residential plumbing company servicing Arizona for more than 30 years. H & H Plumbing specializes in comprehensive plumbing services for every budget with a commitment to customer satisfaction.