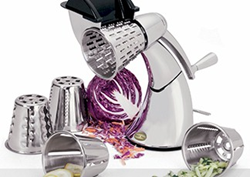 Timeless design to save cooking time and energy.
Ottawa, Ontario (PRWEB) May 22, 2014
Cuisine Santé International's Salad Cutter introduces new timeless design of Salad Cutter that save you time and energy. The Salad Cutter is made of high grade surgical stainless steel and comes with a lifetime guarantee. Two of the features we appreciated most were the ease at which it attaches to a counter top (no screws or vices required), as well as how quickly it cleans up! Equipped with 5 different cones for a variety of cutting styles the Salad Cutter makes an amazing kitchen assistant. The 5 cones allow being creative while cooking and baking, and it will help: shave chocolate, grate nuts, shred cabbage, cut vegetables and so much more. When testing the Salad Cutter people were amazed at the ease of use as we sliced through potatoes (to make homemade potato chips, which were a family favorite), crinkle cut carrots and make short work of grating mounds of cheese. It's highly recommended using the supplied finger guard to avoid accidents, and never let the children play with this because the cones are laser sharp.
The Salad Cutter performance can be seen during many Cuisine Santé International Live Cooking Show. "We are the only company that will invite you and a partner in for a full 3 course meal (free of charge) to evaluate and see our products in action," claimed company President Toufic Khayrallah. This unique approach allows consumers to see, in real time rather than an infomercial, if these products are right for their home. Too many times consumers are taken for granted when purchasing these types of products through TV commercials; Cuisine Santé allows the opportunity to see, feel, touch and taste food that is prepared in their products, guaranteeing the complete satisfaction with future investment.
To learn more about Cuisine Santé International products, or to reserve free dinner for two (limit of 1 per household), visit our website.
Check out our new blog at http://cuisinesantereview.com.