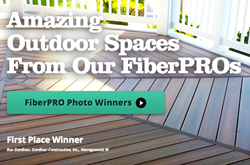 With National Enjoy Your Deck Day not far off on June 7, this photo contest should give more than a few ideas on how to celebrate
New London, North Carolina (PRWEB) May 29, 2014
Building an outdoor living space that suits the exact needs of an individual requires critical thinking and creativity. The deck builders who employ Fiberon's FiberPRO services understand how to exceed their clients' standards and build outdoor living space masterpieces.
Judged by social media users, the three winners are Buz Gardiner of Gardiner Construction, Inc., Robert Shaw of Colorado Deck and Framing, and Ivana Biela of Echelon Custom Homes.
These three winning photos represent quality craftsmanship. Using durable, elegant, and environmentally friendly materials, these home improvement specialists have created remarkable decking products that are equally beautiful and functional.
In this way, the winners not only create quality work, but they also fulfill the unique needs of their clients. The third-place winner, for example, consists of a two-story design that promotes recreation and rest with a deck that enables swimming in the pool and reading on the balcony.
According to Fiberon's Director of Marketing Communications, Edie Kello, all three winners embody the best parts of life.
"Our first-place winner, Buz Gardiner, designed a rounded deck that creates a special space, conducive to both social get-togethers and alone time. Simply look at the design, and you can see yourself doing anything you want out there, a dance floor or a place for solitude or meditation. That's what Fiberon FiberPRO's create for their clients."
With the voting responsibility placed in Facebook and Twitter users' hands, fans of Fiberon cast their ballots for a variety of reasons. From design elements to the inclusion of recreational accessories, the comments centered on any number of elements.
With this free-for-all voting approach, Fiberon's VP of marketing, Shellie Sellards discusses how the FiberPRO Photo Contest ended up being a close call.
"Just a few votes separated the three winners. Only 27 Facebook Likes came between the first- and second-place winners. It could have gone either way, especially since voters particularly enjoyed the high output fire pit centered in Robert Shaw's creation. Even though it took second-place, this outdoor living space easily could have won first-place."
With National Enjoy Your Deck Day not far off on June 7, this photo contest should give more than a few ideas on how to celebrate. To find out more about this contest and the upcoming deck day celebration, visit Fiberon's website at http://www.fiberondecking.com.
About Fiberon
Fiberon is a leading manufacturer of wood-alternative decking, railing, and fencing products available around the globe. Through cutting-edge, American-based manufacturing, Fiberon has created new benchmarks for innovation in outdoor living products. The company is a leader in sustainable practices, with innovative manufacturing processes that capture 98.5% of waste materials, and divert 50,000 tons of wood and plastic from landfills each year. Fiberon, a proud sponsor of NADRA (North American Deck and Railing Association), is privately owned with operations in North Carolina and Idaho. For more information, visit http://www.fiberondecking.com and follow Fiberon on Facebook, Pinterest, Twitter, and YouTube.