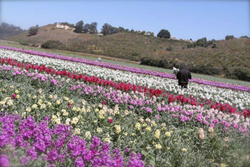 In days gone by, customers never questioned where their flowers came from. Flower buyers are now opening their eyes to the reality of factory floral farming and the environmental impact of flower purchasing.
Glendale, California (PRWEB) June 11, 2014
While the locavore trend has been booming for many years now, the floravore movement has recently arrived and is set to take over the USA. The movement to make local flowers trendy and desirable is really starting to take root in the Golden State. Californian customers are starting to demand American grown flowers, and not just any American flowers- flowers grown close to home.
In days gone by, customers never questioned where their flowers came from. Flower buyers are now opening their eyes to the reality of factory floral farming and the environmental impact of flower purchasing. After being grown in a greenhouse, typical commercial flowers are trucked and flown an average of 1500 miles before reaching their destination. The average flower has been in a box usually without water for 2-4 days before reaching the flower shop. Imported flowers are typically 7 days old or more before they finally reach a vase! Customers are now getting wise to this cycle and demanding fresher, more environmentally responsible blooms.
The Environmental & Social Impact of Flower Growing
Breathing in noxious carcinogens when smelling roses is obviously less desirable than breathing in the pure fragrance of a local bloom grown in the gorgeous Californian coastal weather. Pesticide usage runs rampant in the commercial environment of growing flowers. On the other hand, the great majority of local growers pride themselves on ecologically responsible practices such as bio control, predatory insects such as ladybugs to minimize their use of pesticides, recycling 100% of water to minimize waste and the use of solar panels .
Most North American cut flowers are purchased from South American hothouses where intensive pesticide use such as DDT is common whereas it is banned in North America, yet accepted through cut flowers. Toxic chemical poisoning is common for low wage workers in these Southern greenhouses while water supplies and bird and animal populations also suffer from flower growing in locations where environmental laws are loose or inexistent. On the contrary, domestic flower farmers plant flowers according to the seasons, are passionate about growing healthy and vibrant flowers and use a minimum of or no pesticides to grow their beautiful blooms.
The Importance of Supporting Local Flower Farmers
Supporting local flower farmers goes hand in hand with supporting local vegetable farmers. Slow food- slow flowers. Sourcing local and sustainable flowers for special events such as weddings corresponds naturally with the resolve to have a green wedding with locally grown food and flowers. California proudly grows beautiful flowers and tasty produce, therefore, there is really no need to import toxic flowers from all over the world.
Practicing responsible flower buying with sustainable slow flowers is more than just a trend; it is a growing movement of localizing flower growing. Supporting the local economy is smart practice. Local food, why not local flowers? The slow flower movement is becoming very trendy and hot, not to mention beautiful. Garden style arrangements, modern designs, simple and classic wedding bouquets and boutonnieres to name just a few, all floral styles can be had with local flowers.
Now it's easy to support American grown flowers at FlowersFromCalifornia.com - Shipping 100% California grown wholesale flowers by the bunch and gift bouquets straight from the farm. Event planners and florists in California with brides and clients who value locally grown blooms can now source their flowers from a one stop shop that ensures that all flowers come from California. While there are absolutely no laws on labeling for country of origin, with FlowersfromCalifornia.com, there is no more guess work, no more hounding the suppliers, no more analyzing flower codes to find flowers grown in the good ole USA.
Order American grown, seasonally fresh, field to table flowers by the bunch from FlowersfromCalifornia.com. All flowers are guaranteed to be grown by local California flower farmers! Flowers are harvested, then shipped overnight to arrive to the customer the next day. Delivery anywhere in the US. Shipped directly from the farm. Pricing per bunch is nicely competitive but the really great deals can be found by customers within CA who can take advantage of the $14.99 flat rate shipping.