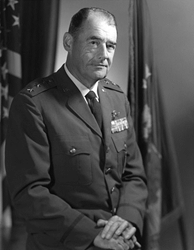 Riverside, CA (PRWEB) May 29, 2014
On Saturday April 5th General Harry Goldsworthy celebrated his 100th birthday at the March Field Air Museum located in Riverside, CA. The celebration took place beneath the wing of a B-25 Mitchell bomber, the same plane he was flying as a young captain when World War II began. General Goldsworthy piloted nearly every plane in the U.S. Air Force inventory and was the Site Activation Force commander for the first Minuteman Intercontinental Ballistic Missile Wing. His Military Service spanned the years 1940 – 1973 in the US Army Air Corps and the United States Air Force as a pilot, commander and staff officer.
General Goldsworthy retired as a Lieutenant-General in 1973 and moved to AF Village West (Air Force Village West) in 1990. AF Village West is an active retirement community located on 221 acres in Riverside, California which was once the historic Camp Haan training center and then later acquired by March Air Reserve Base. General Goldsworthy still enjoys golfing three times a week at the adjacent General Old Golf Course and is currently on the Executive Committee of the Board of the March Air Museum. His expertise and dedicated service during his time on the Board significantly helps the Museum further its mission of being an important factor in the preservation of assigned artifacts and Air Force History for future generations of people interested in aviation and, in particular military aviation.